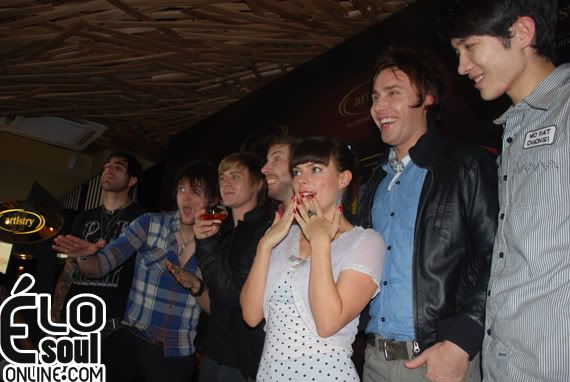 Last Thursday, Elosoul team attended
H-Artistry
Press Conference which was held at Club
Quattro in Avenue K
, Kuala Lumpur, Malaysia.
Boys Like Girls
,
Lenka
,
Paul Freeman
were among big names for this year's H-Artistry "The Global Art Of Mixing" Finale.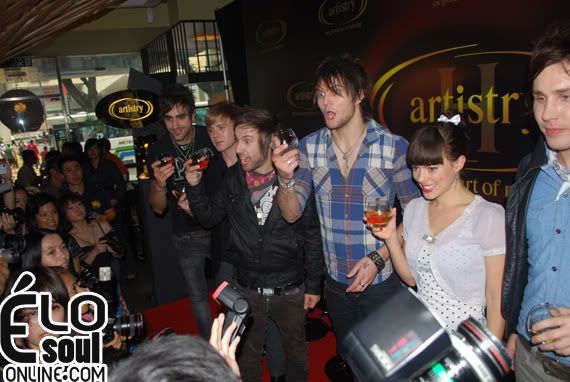 The press conference was a short one though, about half an hour including open- interviews by the media people. Among guests artistes who performed during the H-Artistry event were Boys Like Girls, Lenka, Paul Freeman and Taiwanese musician, Hsiao Hung Jen.


L-R: Boys Like Girls, Lenka, Paul Freeman and Hsiao Hung Jen.
Australian indie singer,
Lenka
says hi to us!
Taiwanese singer,
Hsiao Hung Jen
even says hello to us!
We, Elosoul even managed to interview Boys Like Girls during the open-media-interview! Here's what we asked them;
Martin lead singer of Boys Like Girls
ELOSOUL: As we know that H-Artistry event is strictly opened to non-Muslim guests aged 21 years and above only, Boys Like Girls fans are all mainly teenagers and most of them are all very disapointed that they couldn't catch your(BLG) performance at the event, so is there anything that you guys wanna say to your disappointed fans?
Martin of BLG: Well, for our lovely fans here in Malaysia. Don't worry at all, cos WE ARE DEFINITELY GOING TO COME BACK AGAIN TO MALAYSIA and We're going to rock the stage with all of you!! We'll be back!


So that's about it for the press conference but guys, please do keep your eyes peeled for the next post on H-Artistry Event! We've got something NICE to giveaway to one lucky reader, if you're a huge fan of BOYS LIKE GIRLS!
Here are some photos of the celebrities during the press conference.