The love knot confusion tied among "Heading To The Ground" characters, Bong-Goon (Yunho), Hae-bin (Ara), Yoon-yi (Yoon-ji), and Seung (Lee Sang-yoon) is finally loosen bit by bit.
The love of Bong-goon and Hae-bin will finally actualized when suddenly Bong-goon grabbed Hae-bin hands and kissed her at an empty street.
In mean time, the tie up of Bong-goon and Hae-bin was found out by Hae-bin current lover, Jang Seung-woo, as well as Bong-goon one and only companion since childhood, Yoon-yi who had been obliged in finding many jobs for Bong-goon in previous times, who–despite the flutter in their heart–pretended of not knowing anything. Bong-goon also faced rows of misunderstandings when he entered the J-league for his early feeling expression towards Hae-bin.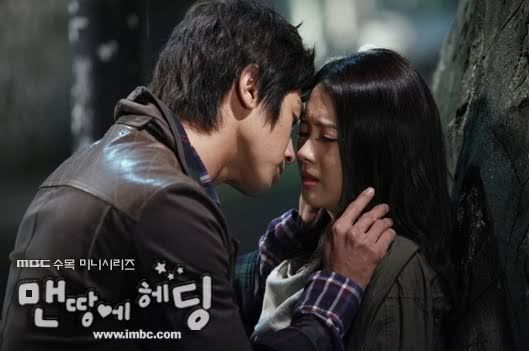 The love confessions scene required a late-night shooting, and the staffs on the site reported that instead of the tension atmosphere that was supposedly around, the two people couldn't endure their laugh at behind the shoot.
However, contrary to the expectation, Yunho could filmed the scene without a single shot ended in NG. Yunho said, "Since she's already more like a relative in family rather than counterpart actress, I came to the shooting in purpose to do it as good as I can. However at the same time, I was also worried that due to shyness, there might be an NG scene, but Ara led me well though it therefore the shoot went smoothly and gladly ended without mistake."
The love line in "Heading To The Ground" is expected to gather more attention from the audiences.
source:

joynews

+ imbc.com
trans: sharingyoochun@wordpress

Heading to the ground airs on Wednesday & Thursday 9.55p.m (KST).



EP12 Preview