News of the century regarding Paris Fashion Week S/S 2010 would be the early announcement of partnership between
Estrella Archs
&
Lindsay Lohan
for Paris fashion house
Emanuel Ungaro
.
I did mention that I was anticipating this line-up the most. Now that I've seen it, here's my take;
- Love the runway stage
- Love the bright colors
- Love the artistic advisor (LiLo of course!)
- The pieces, not too blown away by them.
My critic may not be as string as other reviews towards Estrella's design and Lohan's artistic vision, but I was expecting more actually as Archs is an upcoming designer and Lohan, a stylista~ But the results did not come to my expectations. However, I have to give a big hand for both ladies as they had very little time to come up with the collections.
The opening to Ungaro's runway show was a fucshia mini tube dress with pink straps. To start a show with a classic piece along with a powerful color somehow excites everyone but to close a show with a simple sequined mini dress isn't too flattering. Although, I can't say I disliked every piece after the first one. For examply, my favorite piece would be the navy blue halter dress with the open shoulder sleeve. It's cute and totally my style.
I'm digging the orange tube dress above and from there we know that you can pair a simply orange dress with sequined jacket. It's totally adorable. Also the blue striped on white canvas pants is total chic.
This is the most talked about piece. Complementing heart printed dress with stripes jacket is definitely not expected but it worked out. It gives off a different edge towards the line. This piece is definitely the most interesting one amongst others.
As for others, I believe the critics are a bit too harsh or perhaps because they ahve seen other shows, they were expecting more from the power duo. But Alladin pants and faux fur pieces as well as pairing of two really bright colors are pretty much last year's trend. I think people have seen these sort of pieces a long time ago and a little too much thus cause such harsh critics from the media.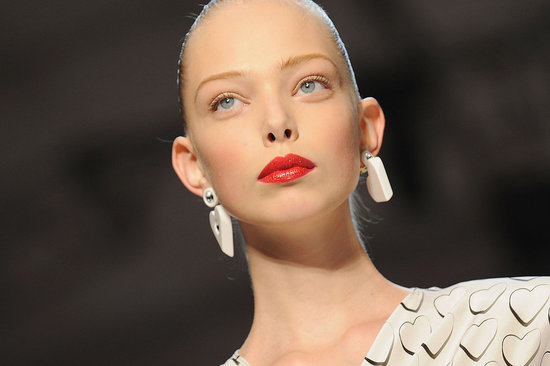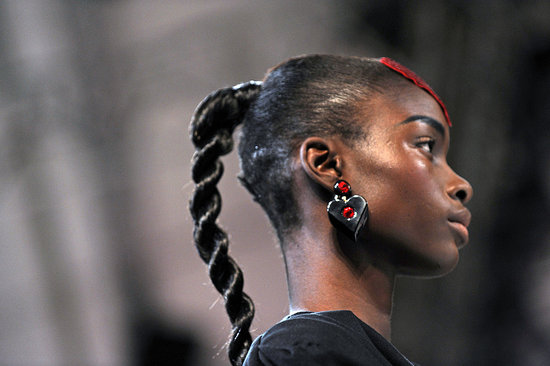 Props to Lindsay for coming up with the idea of clean make-up and sort-of braided hairstyle. The clean make-up with red lipstick is tres' chic and the hairstyle, very modern. very 2NE1's style. And the shoes, HOLY!!! Can you say architecture? Matching their sweet clothes with architectural designed shoes and bright colors, perhaps suppose to present an edgier feel but I'm not too sure if it goes, although the shoes alone, has sold itself to me.
Estrella took the closing stage with Lindsay walking hand-in-hand to take their bow. It's weird watching Lindsay outheight by Estrella as I knew she's taller than me but I can't deny that she looked really sweet in the white off-shoulder dress and red heels.


Pictures credit to Style.com & Coutorture.com;
Pictures editted by fatinDAbomb