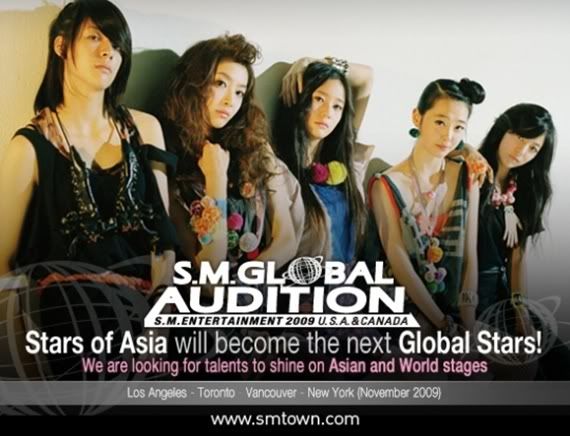 Good News to all of you!
Have u ever wish to be a singer, model, dancer, actor/actress, composer or lyricist? I've bet you do! And guess what's the answer to your wish?

Here's your chance to be a SHINING STAR! Read the details below for more information.
Do take note that the audition will be held in USA and Canada only.


The Audition Schedules are as follow :

SUNDAY (NOVEMBER 15,2009)
Time : 1 - 7 pm
Place : Wilshire Plaza Hotel, Los Angeles

SUNDAY (NOVEMBER 22,2009)
Time : 1 - 7 pm
Place : 1) Toronto Korean Centre
2) Executive Plaza Hotel, Vancouver, Canada

FRIDAY (NOVEMBER 27,2009)
Time : 3 - 8 pm
SATURDAY (NOVEMBER 28.2009)
Place : Korean Village, New York
For more info , log on to : www.smtown.com


For those of you who doesn't know what's SM Entertainment all about? Here are some bits for you =)



A talent agency, producer, and publisher of Korean pop music, founded by Lee Soo Man. Initially, "SM" was an abbreviation of the agency founder's name, but now stands for "Star Museum." Once the home to top-selling groups such as H.O.T, S.E.S and Shinhwa, its current flower includes BoA, Dong Bang Shin Ki (TVXQ), Super Junior, SNSD, CSJH The Grace, Zhang Li Yin, ShiNee and f(x). SM Entertainment also co-publishes Avex Trax releases for Japanese artists such as Ayumi Hamasaki, Namie Amuro and Koda Kumi.




SM's official global artists include TVXQ's Micky Yoochun, Super Junior's Hangeng and Kibum, TRAX's Jay, Girls' Generation's Tiffany, and F(x)'s Amber.


So, what are you guys waiting for??

If you think you've got the TALENT and so happened that the audition is in your city, Go Try it Out!!

Maybe you could be one of the SM official Global artistes too.. :)
You wouldn't know.

GOOD LUCK!!!