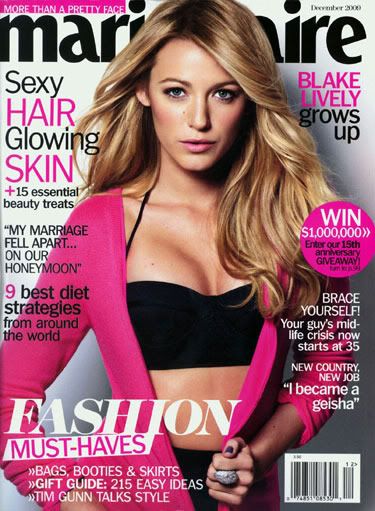 Magazine : Marie Claire US; December 2009
Cover Girl : Blake Lively
Photographer : Mark Abrahams
Editor : Rebecca Miller
Blake Lively showcase her foxy body with a touch of her own class for Marie Claire cover.
For those avid Gossip Girl fans, you may love or ahte Blake's character, Serena van der Woodsen, the Upper East Side It girl who is best friend with the Upper East Side Queen Bee, Blair Waldorf. Blake also was one of the stars of Sisterhood of the Travelling Pants. She has come a long way since and currently she is known as Hollywood next FOXY fashionista.
With a hot body, golden blonde hair and a fierce look to match, it is obvious for someone like Blake to shine through as Hollywood next best thing. Her taste in fashion has also made an impact. Marie Claire quoted, "A bombshell of a girl, I would say Lively is like a tall, frosty glass of milk—but when you take a sip, you realize that the milk has bourbon in it."
I like what Marie Claire decided to do with her photoshoot. Mixing sex appeal as well as class, Blake proves that she can be a bombshell without looking slutty. Indeed, she doesn't look a tiny bit of provocative in all the picture but she does look HELLA hot!!!
I am a crazy fan of Gossip Girl and a decent follower of Blake Lively because of her sense of clothing and her bright and bubbly personality. I also love how she can appear happy-go-lucky at the same sizzles through the red carpet. It's been a while we've seen that.