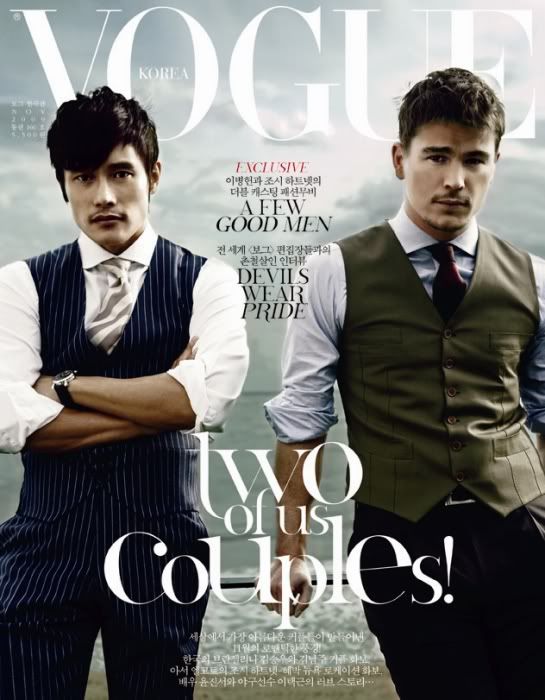 Cover Men : Josh Hartnett and Lee Byung Hyun
Fashion Editor : Kim Ji Soo
Photographer : Jo Sun Hee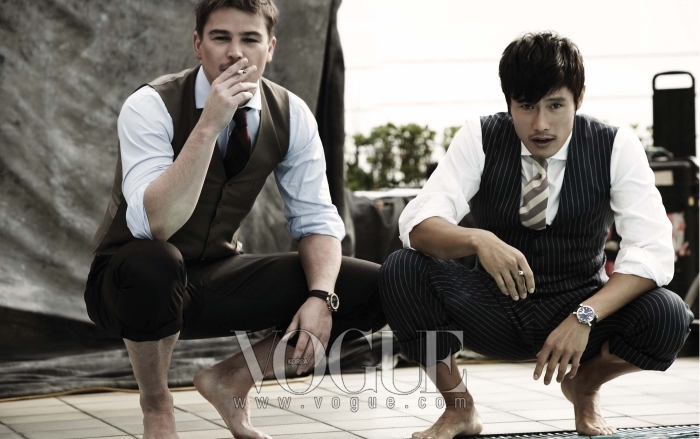 My eyes were popping out of its sockets when I laid my eyes upon the cover of VOGUE Korea's November issue.
It's been so long since I've come online and search for magazine cuts. Now that midterms are over, I can finally concerntrate on posting and updating my blogs. Speaking of updating, I literally died and gone to heaven when I caught the cover page of VOGUE Korea.So I decided to search online. Both of my fantasy men made an appearance and with the brooding lighting, they just look simply fantastical.
It's been so long since I have seen Josh Hartnett and although he look like he gained a lot of weight, he still had that charismatic broody gaze that I love sooo much. And placing Lee Byung Hyun next to him was just genius. These two (HOT!!!) men are just worth looking at. Byung Hyun may not be the best looking men when compared to other actors like Hyun Bin and Lee Dong Gun but he really has that charisma that is just captivating.
It's been a while since Josh Hartnett has been seen in film or to be exact, it's been a while since he's appeared in award-winning film. His most prominant role would be in Pearl Harbor where he acted alongside Ben Affleck and Kate Beckinsale. As for Lee Byng Hyun, he's currently taking on the lead role in KBS daram IRIS alongside Kim Tae Hee and of course T.O.P of Big Bang. I am soooo in love with his character, a manly man who's not afraid to shed a few tears. *SWOOON!!!*
I can't stop smiling looking at these pictures, but I have to admit, Josh look little bit less attractive than he was before with that double chin.