Lee Min Ho's Etude House Press Conference
which was held on last Tuesday at
Luna Bar
, Menara PanGlobal in Kuala Lumpur. The press conference was held to outline the latest product launch for Moistfull Collagen. Consider ourselves lucky and you lucky readers, LUCKY! Cos Lee Min Ho answered our question during the Q & A session at the press conference. Click to see event pictures and coverage.
Moistfull Collagen products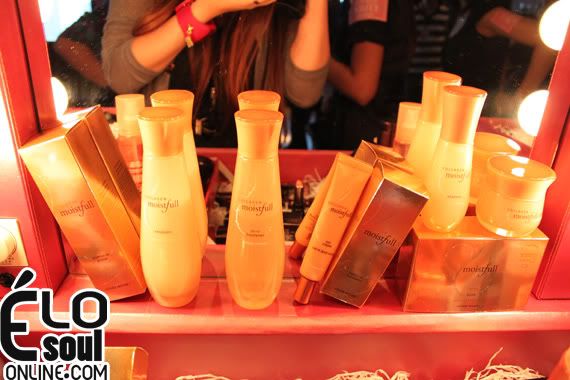 Etude House introduces the combination of moisture-retaining properties of Baobab Tree and tightening elasticity of Marine Collagen in their latest skin care range Moistfull Collagen, best suited for normal to dry skin. The Moistfull Collagen consists of Facial Freshener, Moistfull Collagen Essence, Emulsion, Cream and Mask Sheet.


Code B products




As for their Fall 2009 Colour Collection, Etude House offers the Fall 2009 mission which is called "Code B". Code B products ranges from eye shadow, eye liner, lip gloss to lipstick. We'll have the full product write up shortly.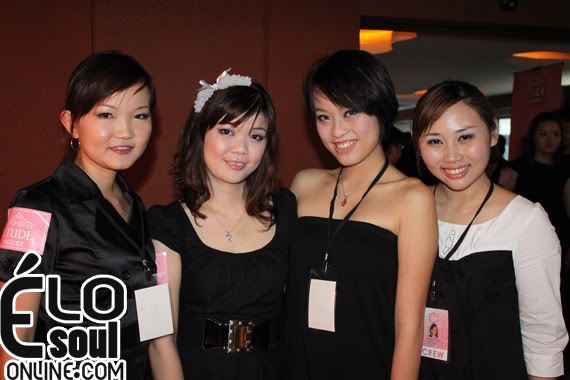 Looking gorgeous in Code B cosmetics (L-R):

Jane Lai make up artist, Agnys model, Joy and Bobo Etude House staff

.

According to make up artist Jane Lai said that Code B cosmetics are suitable for women of all ages but preferably ladies of 18 - 30 years and not forgetting teenagers. The makeup concept is smoky eyes which suits for girls who enjoy partying or attending any functions.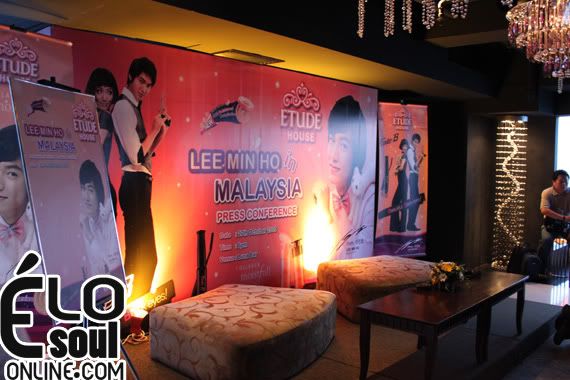 Here's how the stage looked like the other day at the press conference.

After the short interview with the makeup artist, Crystal and I settled down comfortably on our seats with the others and waited patiently for the DIVA, Lee Min Ho to show up. Apparently Mr. Diva showed up after an hour with the management delayed and we heard rumours has it that his management and Etude House Msia management were feuding. What will a glamorous event be like without any saucy drama?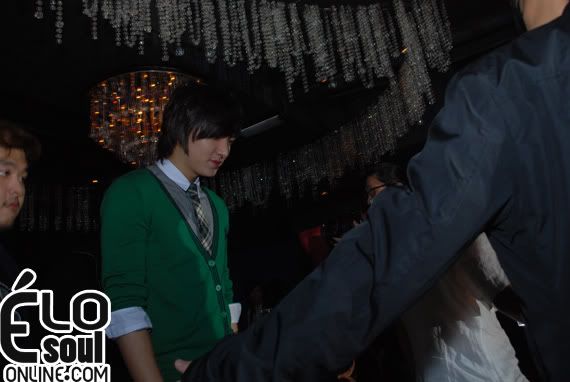 Mr. DIVA himself made his way on the red carpet as usual CELEBRITY STYLE!




During the Q & A session (L-R): host, translator, Lee Min Ho and Ben Lee senior manager of Etude House Malaysia.

Here's what we've asked Lee Min Ho at the press conference:



Elosoul: What is the effect after using the Moistfull Collagen product and among all the Etude

House products, which is your favourite product?





Lee Min Ho: I feel good after using the Moistfull Collagen product but I'll prefer using the

makeup remover because it's very useful.



During the interview, we're disappointed that the translator didn't get our message right or either the translator passed the wrong message to the host. Cos Lee Min Ho answered our question at a very long time but when translated, it was just brief and short. So, we think there's a little miscommunication. We hope that next time the management gets a better translator and the event management get better presenters.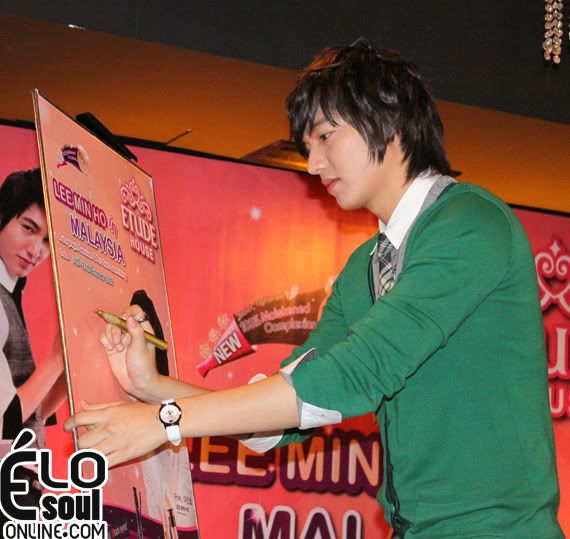 Lee Min Ho signs the board to officially launch the product.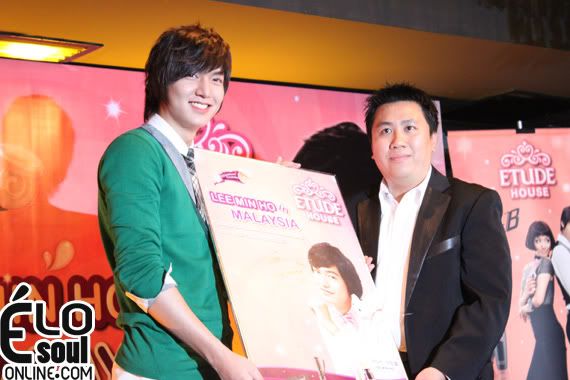 Lee Min Ho and Ben Lee, senior manager of Etude House Malaysia.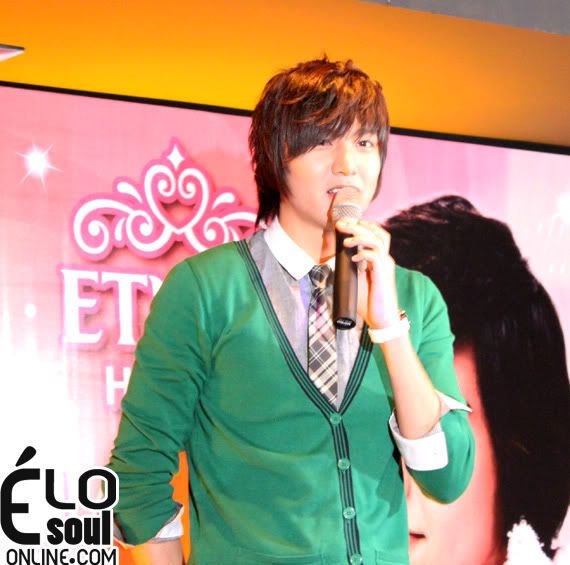 Lee Min Ho saying a few words before leaving the event. He said that he hopes to visit Malaysia again as Malaysia is a very nice country and he enjoys the food here, especially Nasi Lemak!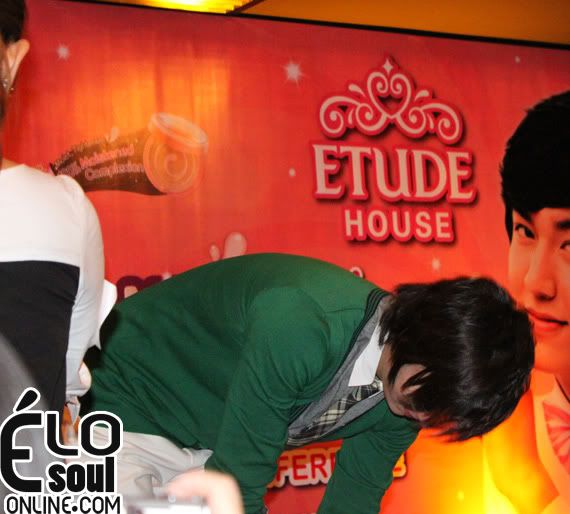 Lee Min Ho taking a bow before he leaves the event. What a gentleman?

After the event was over, Crystal and I went down to the lobby and were shocked to see quite of number of fans were waiting to see Lee Min Ho. So, we've asked them a few questions because we're very curious or in other words, we're nosy. One of Min Ho's fan who wants to be identified as Kim only, said she waited at the hotel for one hour and 17 minutes just to see the star and she even said that he looks very handsome in person than on TV. While the other fans followed him since day one to the last day of his stay in Malaysia. Kudos to you fans and all Lee Min Ho fans out there =)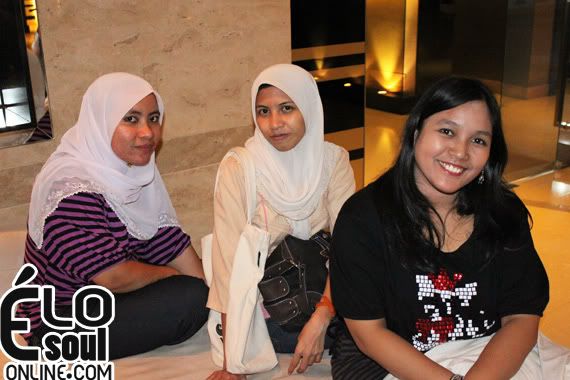 His fans waited at the lobby to see him.


More Pictures of Lee Min Ho and event.