Guess who were at the Sundown Festival in Singapore recently? It's US of course,
Elosoul!
Organized by
Red Spade Entertainment
, the Sundown Festival concert was a great success with the very warm support from the energetic kpop fans in Singapore!
The Sundown Festival Seoul'd Out Concert 2009
was held on 12th December at the Singapore Fort Canning Park. So, what you're waiting for? Click more to read about Sundown Festival!

Besides famous Korean artistes who were presented at the press conference on the previous day, performers from Korea such as the

Miso Korean Musical, Jin Jo Crew B-boys

and the

Drawing Show

, were also part of the concert too.



Elosoul

was lucky to have attended both events and of course, we are going to share with our readers on our full accounts today! It was rather disappointing that we're not granted permission to go all the way right below the stage to catch a more up-close experience of the concert, but fortunately we went to the venue early and queued up like any other fans there. Judging by the long queue in front of us, we were surprised to see that we were actually quite near the stage once we entered the place =)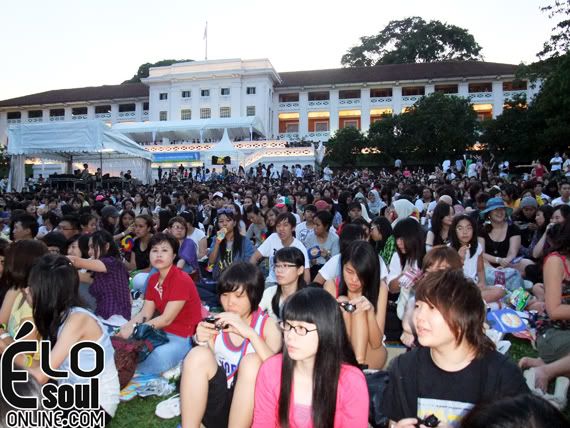 While waiting for the concert to begin, people started queuing up at the food stalls selling Korean snacks like

kimbab, ddubokki, yoguru

and pretty much some of the other famous Korean snacks you know. To be honest, the food was rather overpriced. I grabbed a packet of

kimbab

which cost SGD4 and a bottle of mineral water for SGD2.

Two hours of waiting, the concert finally began! Initially sitting down comfortably, all the fans started standing up and the crowd began to move forward, resulted in some pushing and blocking of views. It was a mad crowd!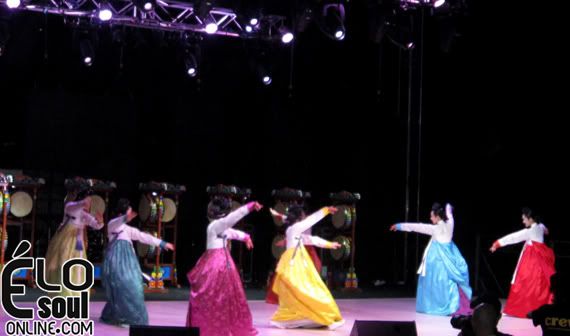 The opening performance was by the Miso Korean Musical. It was a performance in which we were able to enjoy Korea's most famous traditional performing arts such as Korean dancing, Korean instrumental performance, and Korean traditional percussion quartet.




Next up was the

Jin Jo Crew B-boys

. I was rather excited about this because I've always like watching breakdancing. The crowd cheered as they showed off their sleek moves and dangerous stunts to the audience.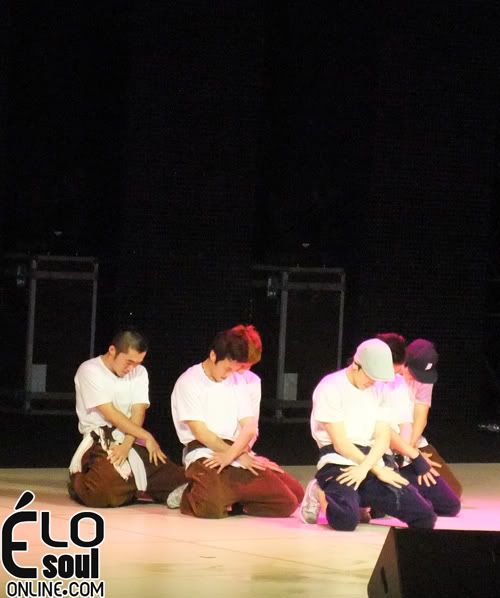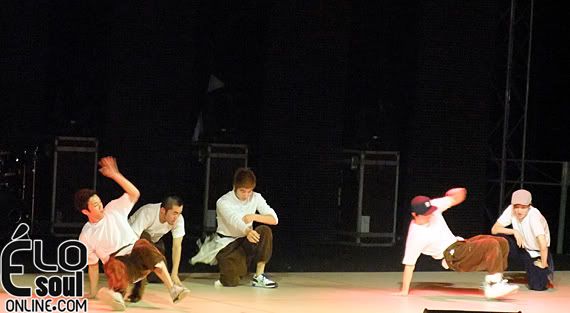 The last group of performers before the actual concert was the

Drawing Show

. The three-member team, who only communicate with the people by drawing and body language, started off with a humourous dance to entertain the crowd.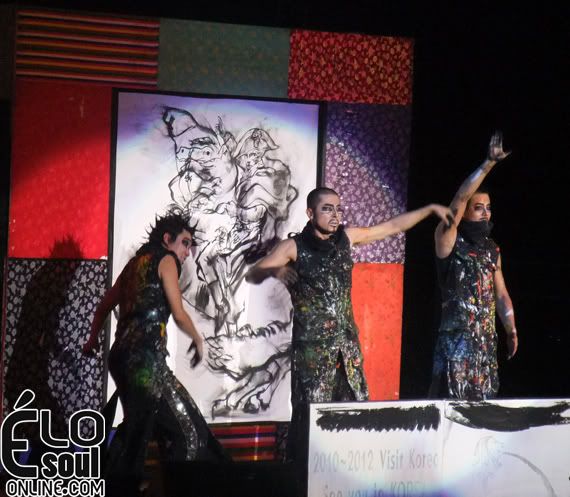 The climax rose as they brought out their famous drawings such as the Finger Drawing (A city formed with scattered paint), Water Drawing (Waterfalls from the Korean landscape painting) and also the Masterpiece Drawing (Napoleon Crossing the Alps).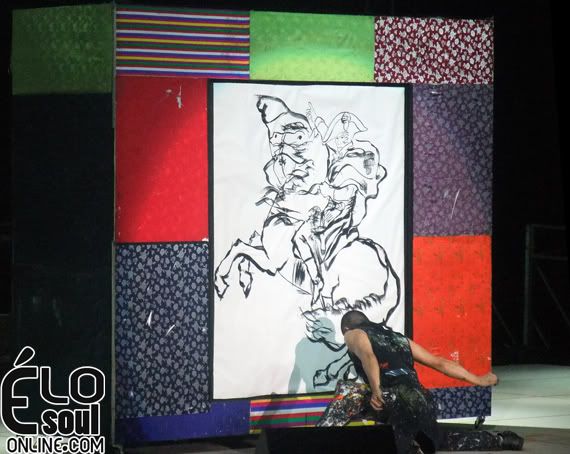 You may think those artworks are already impressive, but it was even more imposing when the charcoal drawing turned into a coloured masterpiece in a split second! It was so magical and beautiful, definitely an eye-opening performance.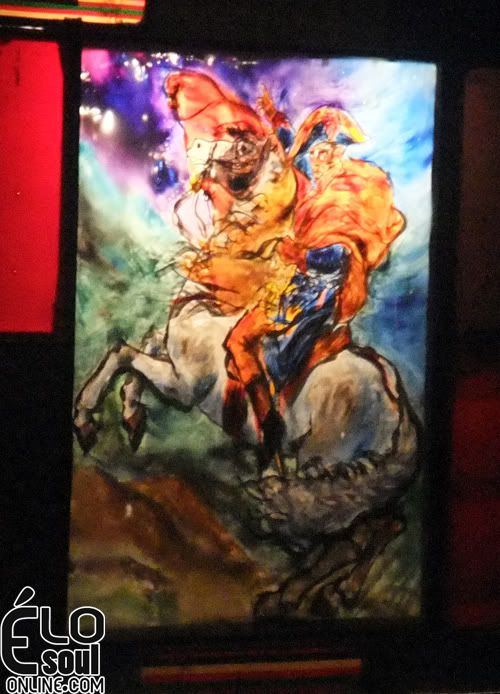 With some of the fans behind me making rude remarks at the performers to get off the stage because they wanted their favourite idols, it was very disappointing to have witnessed such disgraceful scenes. On the other hand, other fans cheered for these performers and we really enjoyed watching it too!


Now the kpop concert which everyone was practically waiting for,

Park Si Nae

came on stage and performed a few songs with her dynamic voice. I was impressed by her singing because I hadn't known her before that .*hides*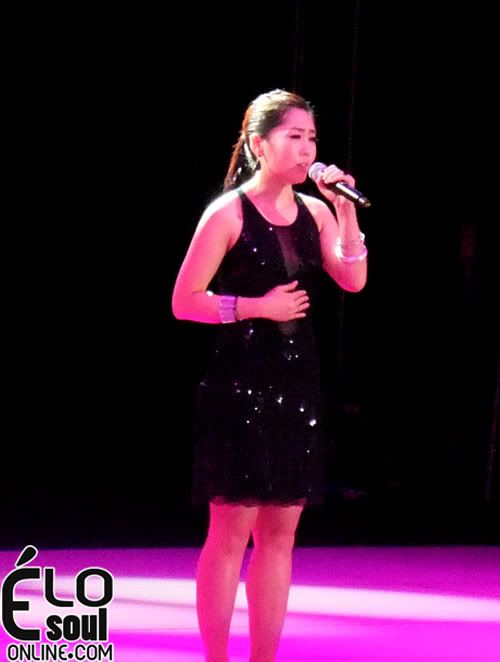 After that, the fans cheered even louder, welcoming the next artiste on stage. The motorbike roared by and fans jumped in excitement as they saw

Mario

on it, where he was fetched by this unknown biker. He came up on stage to join

Park Si Nae

and performed a few rap songs and an English song 'Umbrella'.




They also sang a duet

'Never Say Goodbye'

in the drama

'My Girl'

soundtrack. Born in The States,

Mario

was able to communicate well with the audience in fluent English.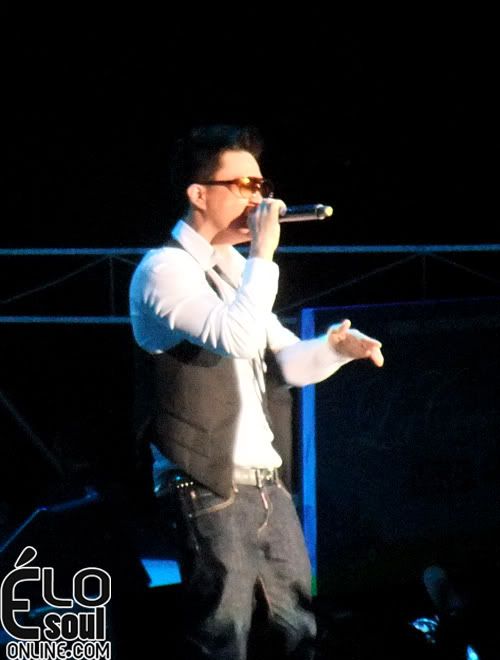 After that, it was the 20-year-old

Lee Ji Soo

. I grew more interest in him as he performed a number of songs continuously with his soothing yet powerful vocal. He wasn't that well-known here in Singapore but as he performed

'Love Can Be Hard'

, everyone knew right away what song that was because it was included in the drama

'My Girl'

soundtrack.




He was really cute while speaking in English because he was trying his best to speak as much as possible. I was kind of disappointed that no translator was helping him at all. As soon as he said it was his last song of the night, the fans groaned to express their disappointment, and he imitated the fans in a cute way. Being so young and talented in singing, he is really an artiste who is worth supporting.


The fans began to scream as

T-Max

came on stage next and performed

'Bang Bang Boom'.

As said in the press conference,

T-Max

did a wonderful job interacting with the fans.

Min Chul

was the more outgoing one giving away lots of fan service like flying kisses and pointing to the fans.






T-Max

practically made good use of the whole stage singing several of their songs in the albums and soundtrack. Of course, seeing

Kim Jun

, one of the F4 in the drama Boys Over Flowers, how could they miss out singing their theme song for the drama?

'Paradise'

was sung and we could hear the fans singing along loudly. Min Chul spoke in decent English and the three of them decided to hype the fans by interacting more with them.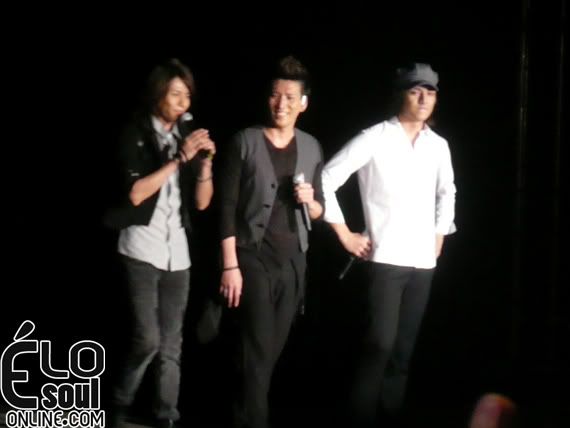 "When I say T, You say Max!"

was what the boys thought of.

"Do you love T-MAX?"

was asked repeatedly and of course, following up the question, the song

'Say Yes'

was performed next. They even had an encore performance because of such supportive fans!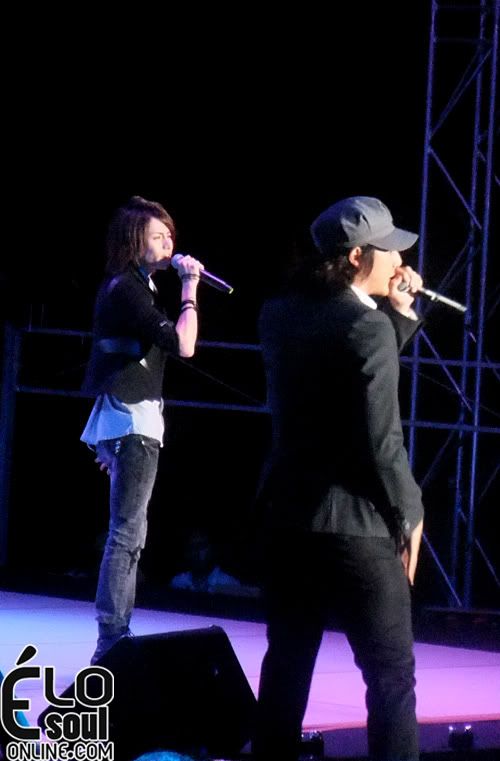 I could see

F.T Island

at the side of the stage preparing to go up. The crowd roared and went crazy when they were finally up on stage. It was so chaotic that fans started pushing forward, wanting to get a closer look at these five charming young boys. People started waving their yellow Primadonnas flags and fan boards were raised high up.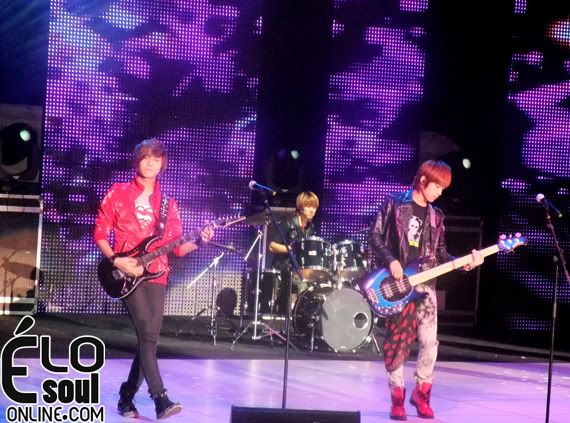 They started off with

'One Word'

and then

'

I Hope'

,

'Bing Bing Bing'

,

'Cool Vs Pretty'

. Everyone was singing together so loudly!

Hong Ki

whose blonde hair was tied into two little buns above his head (which reminded me of his character in You're Beautiful), also spoke in limited English but he couldn't really express what he wanted to say so he requested for the translator's (aka the emcee) help.




From far

Hong Ki

looks like

G-Dragon

of

Big Bang

, if you go closer, it's

Hong Ki

you'll see!
He then began to speak freely in Korean, announcing to the fans that there will be a fanmeeting in Singapore in end of January next year. The encore song was their debut song,

'Love Sick'

.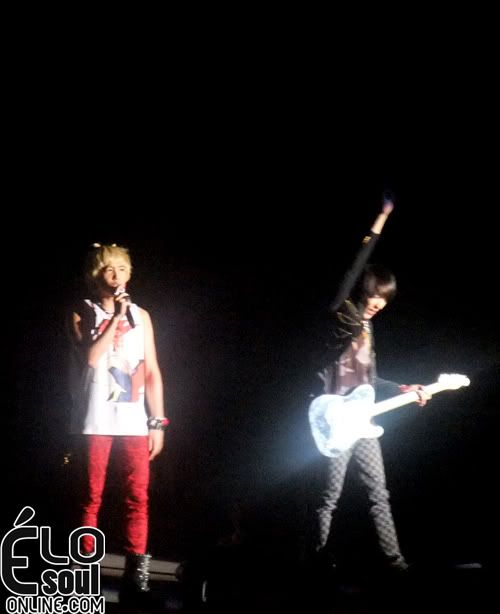 Rounding up the concert at Fort Canning Park was the

Brown Eyed Girls

. At that point of time, the crowd went totally crazy. I thought I was going deaf for a moment. The roaring crowd and screams coming from the fans was beyond my expectation.

Brown Eyed Girls

are sure extremely popular here! They performed

'Sign', 'Abracadabra', 'You Raised Me Up', and 'L.O.V.E'.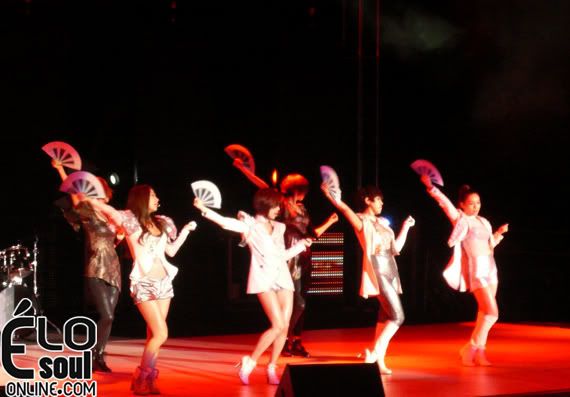 The girls spoke in English too and

Mi Ryo's

English was pretty decent.

Ga-In

was quiet and didn't interact much with the fans, but she received almost the loudest cheer of the night alongside with

Narsha!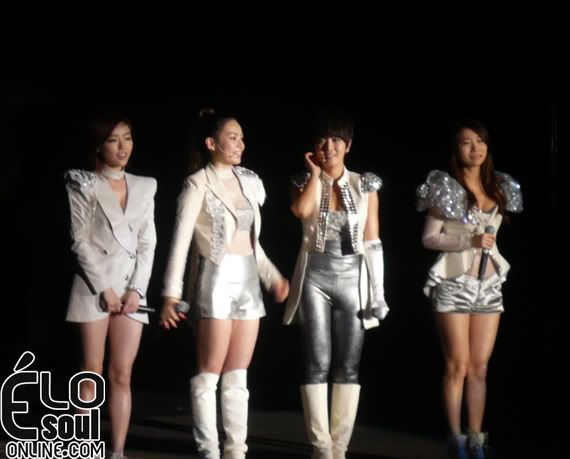 All the performers were then once again being invited up on the stage. There were fireworks from the stage and confetti pouring down which marked the end of the concert beautifully. I must say I really enjoyed the 3 hours plus concert. I am rather satisfied with the good sound system, stage lightings and the fireworks surprises throughout the show. It was an enjoyable night, of course, with really bad after effects to the body aches. Haha!


And many thanks to the following friends;
Credits to Kah Yan and Jeslin for contributing these pictures!



More pictures of the event.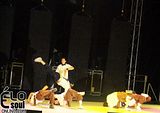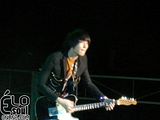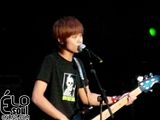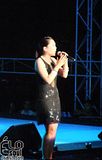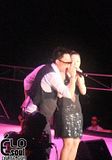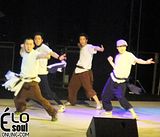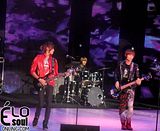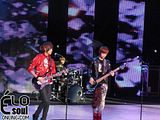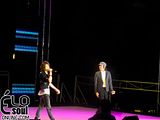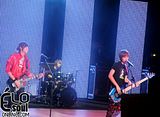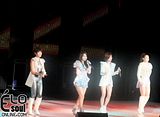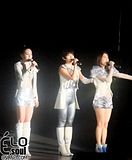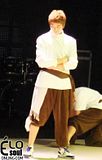 Credits to Maya & Xing aka Mei Hsin (photos) of ELOSOUL