Veik
, a 29-year-old from
Beijing
, doesn't consider himself a doll designer, but a doll player. He's created quite a buzz lately with his Lady Gaga dolls, which, although you'd never guess it by looking, he creates at home with ordinary materials.
Perez Hilton
caught wind of Veik's work and blogged about it, but fans of his Flickr page were on the bandwagon long before. Veik, an avid DIY-er, earnestly insists that he doesn't post photos of his amazing dolls for bragging rights, but to inspire others and tell the world that "your hand make everything."
How long have you been designing dolls?



Instead of saying that I have been designing dolls, I've been playing with dolls since I was maybe 10 years old. I think of myself as more of a player than a designer. I have taken some of my experiences playing with dolls, like doing their makeup or hair, and now take photos of them and share my experiences online through Flickr.



Was Lady Gaga your first celebrity? If no, who else have you created a doll after?



No, Lady Gaga is not my first celebrity. In the 90s, I always dressed my dolls up like supermodels on the runway, like Naomi, Linda, and Kate. If you were to ask this question to a real doll lover, they would tell you that each of their dolls is a star itself. Each of my dolls are celebrities to me. We love them and never treat them like toys. Doll lovers always imagine that their dolls are celebrities, no matter how others think of them.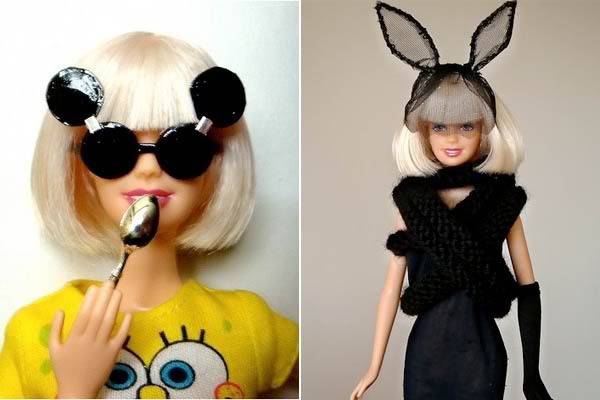 What or who inspires you?



Everything inspires me. Life itself is a great source of inspiration. I love fashion. I love Style.com. Everything about fashion has been inspiring me. If you mean which person or icon specifically, obviously Lady Gaga takes the stage right now. Since I've met more and more Lady Gaga fans (and not only doll collectors) through my Flickr, I don't want to let them down. I will keep on working to make better Lady Gaga dolls.



Why did you choose Lady Gaga

?



That's a good question. Who else dresses like her? Obviously, she's a fashion leader. I hadn't really ever known of her until this summer, when someone left a comment on one of my doll pictures, saying "this doll is dressed up like Lady Gaga." That inspired me. I had been designing hair for dolls and was looking for new inspiration. I used to get a lot of inspiration from runway shows of high fashion designers, so Lady Gaga became a huge inspiration. Just look at her in those amazing wigs, makeup, and outfits! I was thinking it would be fun to make those wigs for dolls, and that a Lady Gaga doll must be interesting. Since then, I pay close attention to her; her music, clothes, glasses, makeup, everything! Every detail makes me love her more and more.



Have you ever met her? If yes, how did she like her dolls? If no, what do you think she would say about her dolls?



No, I have never met her in person, but I really hope that she would like her dolls. Perez Hilton posted my photos on his blog, so maybe she has heard of me. I don't know. Regardless, I'm her fan and I hope she will like my work.




How long does it take to create each doll?



It depends. Some looks are very easy to make. What is hard for me is finding the materials to make her outfit, makeup, or wigs in doll-size. I try my best to make my dolls look as close as possible to the real person. But I make my dolls at home and am not a professional doll designer or OOAK [one of a kind] doll maker, so materials are very limited. But that's exactly what I advocate, DIY. You can see that I use a pen cap, paper, and black nail polish to make her glasses. I want to tell other doll players that they can create their own Lady Gaga doll with very basic materials you have at home. Especially for kids; I know how I played with dolls when I was a child. I couldn't always ask my parents for money to buy all I wanted to. So, I made things myself. Nowadays, since there are so many people that find me online and not just kids, I'm improving my skill. I hope to do Lady Gaga dolls better than ever, so I'm learning from talented people and improving myself. Although now it will probably take longer than ever to create a doll.



What was the first doll you created?



The first doll I created was a girl in a Japanese cartoon show when I was 12 or maybe younger. I also loved to dress my dolls like my teachers, ha ha.




Do you create male dolls too? If no, why not? If yes, which one is your favorite?

Well, I feel like men's fashion isn't as exciting as women's. I'd like to create myself as a doll, ha ha. Just kidding. Mattel makes Barbie and Ken, but I don't really like Ken's body, and I rarely play with him. I'd like to create an emo boy doll, with long black hair, black nails, tight jeans, a hoodie, something like that. There are all kinds of men out there, but what's important is for a man to be himself from the inside out.





Which celebrity will you create next?



I have seen a lot of celebrity dolls in stores. I have even bought some myself, like my Beyonce doll from Mattel. But the doll is nothing like Beyonce, I was very disappointed. When kids get a celebrity doll, they more or less imagine themselves as that star. So what they buy are dreams and not toys. No matter who will catches my attention in the future, I need to make my dolls that more closely resemble the person.



Do you have any plans to sell your dolls in the future?



Right now, I just make dolls for fun. I honestly didn't expect that my photos would ever be so popular online. It's so easy to find my pictures, just Goggle "Veik11." I have thought of making money with my dolls, but I don't really know how to approach it. Maybe in online-only markets. Who knows, maybe in the future. I just like to share my toys. Maybe one day, when I'm old, I'll give my dolls away to lovely kids.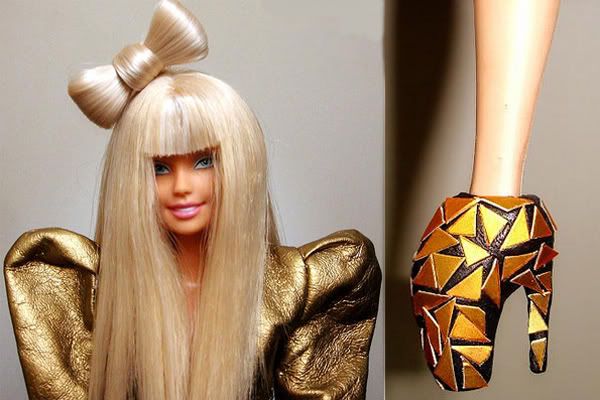 What is your favorite Lady Gaga look?



My favorite Lady Gaga look is always her next one. What's amazing about her is that she always brings us a surprise. Regardless of her music or what she wears, when we see her we're always WOW WOW WOW. I love all of her looks. If I must choose a favorite, it's her look in her music video for "Bad Romance." She wore a white rat on her head. I used to be afraid of rats and thought them disgusting, but when she wore it I thought, "Wow, it's really cool!" So I'm planning to create that look for my dolls now. I even want a rat for my own head. It's so funny, I no longer fear rats, and when I see one, I think "Wow, rats look so fashion, so cool."



Why is the DIY process important to you?



I always advocate DIY. A lot of people leave comments on my pictures, saying, "Hey, you are talented! You're a genius!" But I don't think I'm like what they say I am. I mean, I'm sure that they're really talented, too. Maybe just in other ways or with other things. Everyone is talented. I learned how to curl doll hair from one of my friends here, she's an amazing person. I posted tutorial pictures on how I made some Lady Gaga looks, like bowhair or sunglasses. My tutorial photos are mainly for kids; each child is a genius, but you never know who they will become in the future. I'm so glad to see that some people have now created their own Lady Gaga dolls. Some dolls are even much better than mine. Life is a process of learning and improving. I always think there are much easier and better ways than mine to make doll hair, just waiting to be discovered. Also, DIY is great news for parents, because if kids can make things themselves, then their parents can save some money. I've saved all my experiences playing with dolls when I was a kid, and everything about the world I created for them by hand. Money can't buy everything. I enjoy the process of creativity, I like making my dream come true. Each one of my works is like my own baby. I love them.


More Pictures!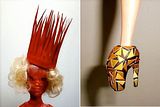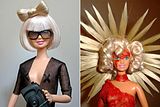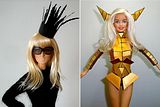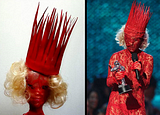 Source:

Joonbug

, Pipeline