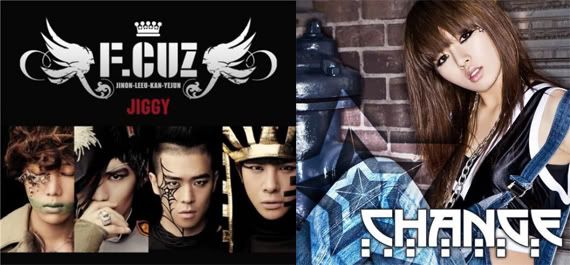 Earlier on, we mentioned about their new music video releases, and now they are performing live on various music shows!
Don't forget to catch their third performance today (
10th Jan
) on Inkigayo!


Hyun-ah <- CHANGE Solo Debut @ Music Bank


cr: tarahyomin


Hyun-ah - CHANGE Solo Debut @ Music Core


cr: chyansie9


F.Cuz - JIGGY
Debut Stage @ Music Bank



F.Cuz - JIGGY Debut Stage

@ Music Core




cr: thestory0913



So what do you think about their performances?

Both of them did fairly okay on Music Bank although they were a little messy and got breathless on stage. However as their first, I guess it's quite forgivable, isn't it?

Both improved quite a bit for their second performance on Music Core and I was glad to see the improvement! Those boys were so energetic on stage that I have to really compliment on their stamina because they still handled the live quite well being rookies. It's been long since we came across such happy songs apart from all other 'bad boy image' groups. This song is really catchy, I'm so liking it the more I listen, what about you?

As for

Hyun-ah

, this song is going to be a big hit. Great choreography. Just take a look at how she moves her body! There is still room for vocal improvement, but the overall stage presence was fantastic. Also, with the help of

Jun Hyung

of

BEAST

, this song definitely spiced up a bit more.