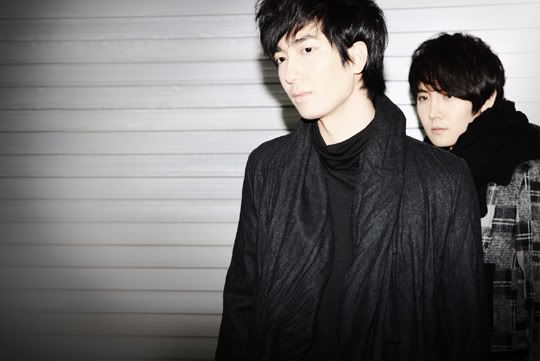 SM Entertainment Rock group,
Trax
are making their comeback in the music scene after three years of hiatus. Their upcoming mini album "Trax Mini Album Volume 1" will be released on January 25.


The sorrowful vocals really tugs your heartstring, doesn't it?

X-Mas

composed the song while

Jay

wrote the lyrics to it.

And I'm sure there's gonna be question by you people, "Is that who I think it is?"
Yes you saw right. Super Junior

Heechul

and f(x)

Victoria

are in the MV. And judging by this, the MV is gonna be one of a tear-jerker.

Great acting and powerful voice in one MV. I really can't wait for the release of the full MV. And I'm pretty sure, you can't wait either. *winks*

Some Info:
Album Release: 25 January 2010
Tracks:

가슴이 차가운 남자 (Let You Go)li>
One Night ft. Shin Min Chul (T-Max)
송인 (Goodbye Lover)
아직은 나 (I Can Change)
치유 (Healing) ft. Key (SHInee)
끝나지 않은 이야기 (Don't Go)
All Credits to sm ent.