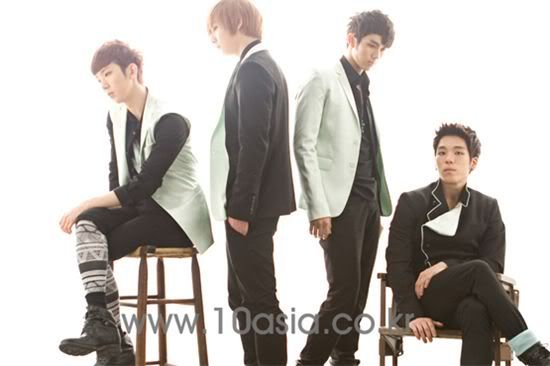 Previously, we posted
2AM
Interview with 10Asia Part 1. Here's the second part of the interview.
10: Changmin has to answer three questions in a row. (laugh) First, why did you change your singing style? When we listen to you sing "Another Day" in high school, your deep voice sounds very attractive. Do you think you will go back to singing in your old voice tone?





Changmin:

For the time being, no. My real voice is the current voice but it was the trend back then to sing R&B in a deep voice like [Fly To The Sky singer] Fany, so that is how I did my vocal exercises. But I kept getting a sore throat singing like that, so I started doing vocals in my own voice and changed to my current voice.



10: I will read you this question, asked by one of your fans, word for word. "When I heard you were a military-graduate-idol, I thought you would be very old but was shocked that you were surprisingly youthful." Why did you go to the military so early?"





2AM

: Hahahahaha


Jinwoon:

He called you "youthful", not "young"...


Changmin:

My mother told me to go. She persuaded me by saying things like if I go during my freshman year of college, she will buy me a car when I get back. Or that there will be no obstacles in pursuing my singing career if I fulfill my military duties. I wanted to go to the army later because if I became a singer first, I wasn't sure if I would be able to keep doing music after I went off to the military. That is why I went early.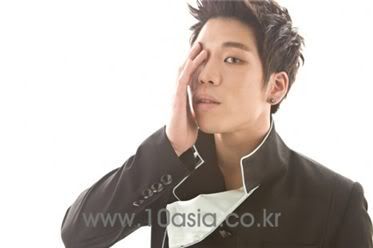 10: Changmin is an idol but he gets ignored a bit on KBS variety show "Star Golden Bell".



Changmin:

I get ignored a lot. (laugh)



10: You are an idol and ballad singer. What is like to play a character who gets attacked like that?

Changmin: Honestly, in the beginning... I sort of liked it. I thought they were expressing their interest in me and I had said I wanted show my funny sides a lot. But after a while the fans would laugh when I was singing ballads. (laugh) That was a little hard on me. But the image that I show in variety programs is sort of the guy-next-door image, so when I get attacked on entertainment shows, I attack them back. It was a little difficult for a while but I don't feel the pressure now.

10: What kind of thoughts run through your head when you get involved in spontaneous situations, like when you suddenly had to start beatboxing on "Radio Star"?
Changmin: That I have to do it. I could be bad but be honest and give my best shot at it. If I run out of breath, that could be funny too.
Seulong: I think on variety shows, people accept you the way you are as long as you are honest about whatever it is that you're doing.



10: So you were being yourself and got misunderstood in the Netherlands as being gay with the "Dirty Eyed Girls" video. ["Dirty Eyed Girls" is a parody group of Korean girl band "Brown Eyed Girls" composed of two 2AM members and three 2PM singers.]



Seulong

: I sort of overdid it in that... (laugh)

10: How do you feel about doing many variety shows even though you are very skilled singers?



Seulong

: It is all right because we ourselves enjoy appearing on them. We like talking with a lot of people on those shows.


Changmin:

There are people who listen to our music more after seeing us on variety shows, so I like it.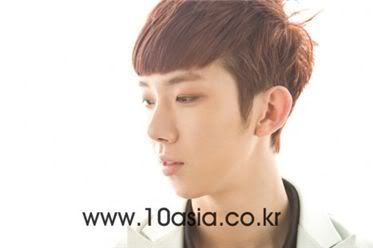 10: Jo Kwon, have you felt that you could really date Ga-in after having appeared on MBC variety show segment "We Got Married"?
Jo Kwon: I think I would be lying if I said I don't have such feelings at all. I heard that even actors believe that they are truly in love with the person while they are acting to express romantic emotions toward a lover. I think it is a similar case with "We Got Married". I think we're increasingly developing these wonderful feelings as we get to know each other's personality and charms.


10: How did the other members react when Jo Kwon said on "Radio Star" that he "almost became a 2PM member but saved 2AM by coming to this team"?

Seulong: It was true and bitter to hear too.. (laugh) There was a 2AM member among 2PM singers too. Like all the trainees at the company, Kwon and I went through seven different combinations of groups before finally making our debut as 2AM on the eighth combination.

10: When Jo Kwon took his college entrance exam, there was a heartwarming story about Changmin making a lunchbox for him. What about when Jinwoon took his exam?
Jinwoon: My mom made mine. Everyone had a very busy schedule...
Changmin: We couldn't go and support Jin-woon when he took his college exam because work ended late in early morning. But we plan on going to his graduation if we don't have any work that day.



10: Fans really loved to see Jinwoon wear his school uniform and many have requested that he keeps wearing the uniform in college.
Jinwoon: I heard there were schools in the U.S. that wear uniforms, so if you send me to the U.S....
Jo Kwon: Just wear it. Wear a sailor uniform.

10: If 2AM could hold a solo concert, what kind of performances would each of you want to put on?
Jinwoon: At the last fan meeting, I made a digital sound source myself and sang a rock song. But the sound was disappointing because it was not a live performance. When I do a concert, I want fans to see me making music with friends that I have been doing music with.



Changmin

: I want them to hear the songs that I really like. Personally, I like everyone from Ray Charles to Rancid, but so far I have only song trot songs. (laugh)


Jo Kwon:

I want show them a unique and fantastic performance.


Seulong:

Lady Jo Kwon?


2AM

: Hahaha


Jo Kwon

: Not Lady Gaga, something cool.


Seulong

: I want to do a performance but with no dancing. I want to just stand and sing a song like Ne-Yo's.

10: Are there any activities that you want to do separately? I think some fans still want to see Seulong's body accentuated.



Jo Kwon:

Shoot a sexy photo spread?


Jinwoon:

Im Seulong sexy photo spread!


Changmin

: If you appear topless, you'll get mistaken for a woman.. and become famous in the Netherlands again.


2AM

: Hahaha


Seulong

: I do work out harder because fans like that side of me. Everybody wants to do solo activities, and I do too. But I think we still need to work as the group 2AM.

10: In the teaser video prior to the album release, there was a scene where Seulwong got soaked in the rain and you received an outpouring of questions such as, "Seulong, how did you bulk up your chest?" (laugh)



Jo Kwon:

His chest was big even before he started working out. His chest feels hard because it is all muscle now but before working out...


Seulong:

Everyone is born with certain exceptional body features. I was born with an exceptional chest. (laugh) The trainers at the gym always touch my chest, saying that they want their chest to be like mine. They told me to "develop the area which is best developed" and that is how I got to be like this, but all you have to do is just work out hard. But you can't do anything about what you are born with, so you have to give it up. (laugh)

10: After watching "We Got Married", fans even wanted to know what kind of smell was coming from Seulong's room.



Seulong

: Oh come on.. that is so wrong. My room doesn't smell, right?


Jinwoon

: That is because you are in your own room.


Seulong

: No! I don't smell! Really!


Changmin

: There was one time when we left a chicken breast in there and it rot. (laugh)


Seulong

: That was because I am very forgetful and I forget to remove lunchboxes and stuff. It doesn't smell now.

10: What about the rooms of other members?



Jinwoon:

Not really...


Jo kwon

: Oh, your room smells too. Sometimes it's even worse than Seulong's room.


10: Jo Kwon seems very confident. (laugh)



Jinwoon:

His really doesn't smell.


Jo Kwon

: I buy a bunch of air fresheners and put them in my room. I put about two in Seulong's room and I even put in moisture removers in all the closets. (laugh)

10: What is the most radical thing that you have done while working as 2AM?



Changmin:

Taking my glasses off. My eye sight is 2.0 and I feel uncomfortable wearing glasses. So I took them off for wardrobe and concept reasons. Some people like it and others tell me to put them back on.. I think that was a radical thing. (laugh)


Jinwoon

: Hitting my chest during my singing. (laugh) It was okay to hit the chest but I went too far by saying on the radio, "What I can never give up on stage is hitting my chest." If I give it up now, I feel like losing.


Changmin:

Chest-hitting was not in the original plan, but he did it once during the music video and got a pretty good reaction from people. And he's been hitting himself ever since.


Seulong:

Looking back on it now, I think I went a bit too far with "Dirty Eyed Girls." (laugh)

10: How did you guys react after shooting "Dirty Eyed Girls"?



Seulong

: I didn't think it would be such a huge hit when I was shooting it. When we get together with the 2PM boys, we get along really well, even better than you see on TV. We just did our thing and people really enjoyed watching it.


Jo kwon

: I knew it would become the talk of the town. (Licking his lips with his tongue) We do it like this -- how could it not be a hot topic? (laugh)


Changmin:

I still remember these guys saying, "I think this will surely get us onto [Korea's year-end music festival] MKMF."


Jo Kwon

: And we really did it a lot on variety shows.


Seulong:

They still make us do it.

10: You will probably have do something beyond that performance to make them stop.



Changmin:

Beyond that? What in the world can we do...

Senior Reporter : Kang Myoung-Seok two@10asia.co.kr
Reporter : Choi Ji-Eun five@10asia.co.kr
Photographer : Chae ki-won ten@10asia.co.kr
Editor : Lynn Kim lynn2878@asiae.co.kr, Lee Ji-Hye seven@10asia.co.kr
<ⓒ10Asia All rights reserved>

Source: 10Asia