Super Junior
was in town! Yes! You did not get me wrong!
Super Junior concert was a success making it a FULL HOUSE concert with 15,000 fans, mostly females. The concert was held at Putra Indoor Stadium Bukit Jalil, Malaysia on 20th March 2010. Some of SUJU fans came as far from Taiwan, China, Indonesia, Hong Kong, Korea, Singapore, Thailand, Paris and etc. Only ten of them performed at the concert, as for the other 3;
Kangin, Kibum and Hankyung
couldn't participate in the concert due to their own personal issues. Click to read more on the concert and see yummy pictures of the boys! =)
The biggest boy band group in the world,

Super Junior

has touched down to Malaysia on Friday evening (19th March 2010) for their 1st ever concert

'Super Show 2' in Malaysia

. They last came to Malaysia for MTV Asia Awards in 2008 and they were also the guest artiste to perform with

TVXQ

in conjunction with

TVXQ Rising Sun 1st Asia tour

concert on July 14th 2006. However, this time, the boys are back in Malaysia again for their first ever rocking concert - Super Show 2.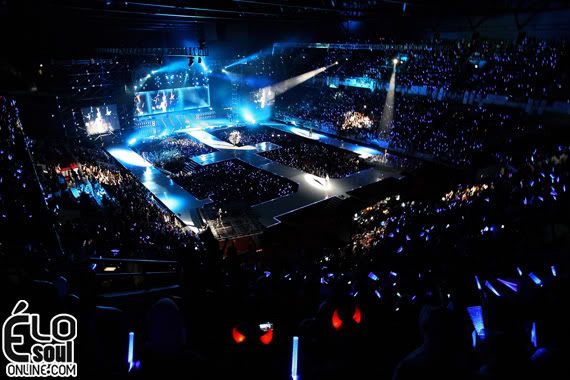 The stadium was filled with 15,000 of their fans at about 7pm and the stadium transformed into Pearl Sapphire Blue Ocean. We sat at the media bench together with Liz from K-popped =) While we were waiting for the show to start, Liz and I were busy KPOP chit-chatting.

As when the fans got tired of waiting for the performance to start, they did an impromptu Mexican wave, chants(SuJu! SuJu! SuJu!... ) and (randomly)

"Jae Bum! Jae Bum! Park Jae Bum!!!

" =.=




Opening act of the night was none other than our local artistes

Thomas & Jack

with hip hop dancers

ECX

and

Iqwal Hafiz

. Both of them got good cheer from the crowd for their energetic, hip-hop and stylish performance.

At 8pm, fans went wild as they found out that members of Super Junior were coming out from 4 different exits of the concert zones. Security guards stood by at those exits. A few minutes later, Super Junior members appeared and headed to the center of the stage.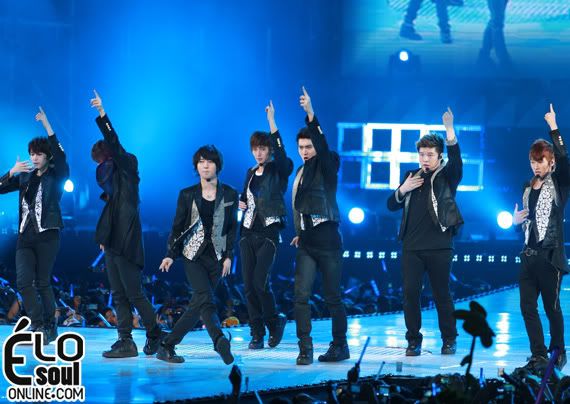 Super Junior kicked off with

'A Man in Love'

together with their powerful and dramatic opening followed by 'U', 'It's You' (rearranged version) and 'She Wants It'. After performing 4 songs continuously, Super Junior introduced themselves in their own wackiest style.




Dangerous Cinderella,

Hee Chul

: "Feel the music!!!"
The Living Work of Art,

Shi Won

: flashed off his hot body
Hottest Baby,

Kyu Hyun

: moonwalk at first then said "apa khabar"
The Bubble Boy,

Ye Sung

: "I LOVE YOU!"
Loveable Blurness,

Ryeo Wook

: "My name is.. RYEO WOOOOKKK!!!!!!" then very cute continuous body waves
Ultimate Sweetness,

Sung Min

: shows off his martial arts skills
Bejewelled,

Eun Hyuk

: faces his back at the audience and took off his vest
Sexy Fishy,

Dong Hae

: "Hello Everyoooonnnnnnnnnneeeeeeeeeeeeeeeeee!!!" then a back flip
Cutie Pie,

Shin Dong

: "Hi Malaysia!" in a cute wave and then apologizes in the end
Fallen Angel,

Lee Teuk

: butt hop

Here are the songs which Super Junior performed :

1. A Man in Love
2. U
3. It's You (rearranged ver.)
4. She Wants It
5. Angela
6. Miracle
7. Disco Drive
8. Dancing Out
9. Baby Baby (Sungmin's solo)
10. My Beautiful (Donghae's Solo)
11. Give Up
12. Insomnia (Ryeowook's Solo)
13. Forgive Me
14. What If
15. Heartquake
16. Honey (Leeteuk's Solo)
17. Sonata at Temptation (Heechul's Solo)
18. Don't Don
19. TWINS
20. Our Love
21. Puff the Magic Dragon (Kyuhyun's Solo)
22. Dance Performance by Lee Teuk, Shin Dong, KyuHyun, EunHyuk and DongHae ft. Henry
23. Sick of Love
24. Who I Am (Shiwon's Solo)
25. Blur Tomorrow
26. Super Girl
27. Shining Star
28. Sorry Sorry (rearranged ver.)
29. Chu
30. Rokkugo
31. Honey Jar
32. Pajama Party



STYLE ALERT!!





The boys were all well-dressed that night and I can recall some of their outfits which they wore; black tux, monochrome pattern vest, studded coats, colourful printed tees, acid wash skinnies, stylish NIKE shoes, pants with gold zippers at the sides and not forgetting their utterly cute official tees with their zany headgears! Kudos to their coordinator, he or she definitely has great taste in style!




In the middle of the show, fans got a surprise as the two Chinese members of

Super Junior M

;

Zhou Mi

and

Henry

performed on stage. Henry wowed the crowd with his impressive skills in playing the violin. This dude is AMAZING and such a cutie!




Super Junior M performed two songs that is

Super Girl

and

Blue Tomorrow

. The crowd got hyped again when Super Junior performed their popular hit song

"Sorry Sorry"

. Super Show 2 is one of the best concert we've attended to so far because it has a combination of sorts i.e. good stage set up, awesome sound system, great stage presence by the boys and a mixed feelings of happiness, emotional and excitement.






Funny fact that should be remembered:

Super Junior also cross-dressed as girls with some of them wearing leggings, wigs and short shorts. They parodied to 'Chu' by girl group

F(x)

- it's super hilarious, we laughed till we almost pee in our panties! =D





Super Girl Shindong

sat on the boys. Ouch!



Eunhyuk: Oookay... O.o

Fans also demanded for an 'ENCORE' after Suju ended their concert with Pajama Party. Of course, the boys did not disappoint their fans thus, granted them with 3 spanking performances namely 'Carnival', 'Wonder Boy' and 'Marry U'.





Heechul

showing off his deadly wet weapon - water gun it seems =.=



Yesung =)



Super hyper

Leeteuk

As Super Junior were singing

Marry U

, members had interactions with their fans such as squirting water at their fans with their ultimate water guns. Some smart fans even brought their own water guns, so they water-attacked back at Super Junior! Besides, members of Super Junior went round shaking hands with ELFs and also one of the lucky audience *drum rolls* who happens to be none other than Elosoul Online photographer,

Crystal Keiz

was so lucky that she had a chance to sing

"I do"

part during

"Marry U"

performance when

Sung Min

handed her the microphone.



You can see Crystal in the video at 2:08 - 2:17 =)




Both Super Junior and their fans had lots of fun as it was more like a huge fiesta than a concert. Fans were satisfied with Super Junior's cute yet energetic and charismatic performances. It was undeniable that the concert was indeed an interesting and worthy one as all the props looked fantastic and superb which is imported from Korea. Apparently, over RM6 million has been spent on the concert production, stage, sound and lights for this concert.





Sungmin's

hair kinda remind me of the late

Michael Jackson

=p





Super Junior

together with

Zhou Mi

(in black) and

Henry

(black pants)

The concert wrapped up at 11:30pm after Super Junior performed 35 songs for 3 precious hours.


Organized by Redstar Presents and event managed by Marctensia; SM Entertainment & Dream Maker as Concert Supervisors; Warner Music Malaysia as record label; supported by Korea Tourism Organization; One FM and HOT FM as official radio stations; YG & Epop as official Chinese magazines; Redbox, Greenbox & Redbox Ria as official karaoke; Speedy as promo partner, Daorae Korean BBQ as official Korean Restaurant and Special Thanks to Freak and Radioactive.



Pics taken by Crystal Keiz




Vid by Yanyee89



More Pictures below!