Last Saturday,
Super Junior
had their press conference to officially kicked off their concert
"Super Junior Super Show 2"
in Malaysia. The press conference was just before their concert and took place at the VIP Lounge, Putra Indoor Stadium, Bukit Jalil. Only ten of the boys attended the event which are
Kyuhyun, Eunhyuk, Shiwon, Leeteuk, Sungmin, Ryeowook, Heechul, Shindong, Donghae and Yesung
. We gotta admit that the moment the boys stepped in the room, the room was in total silence as all eyes were set directly to the boys. Click more to read on the press conference coverage and view pictures of the handsome boys!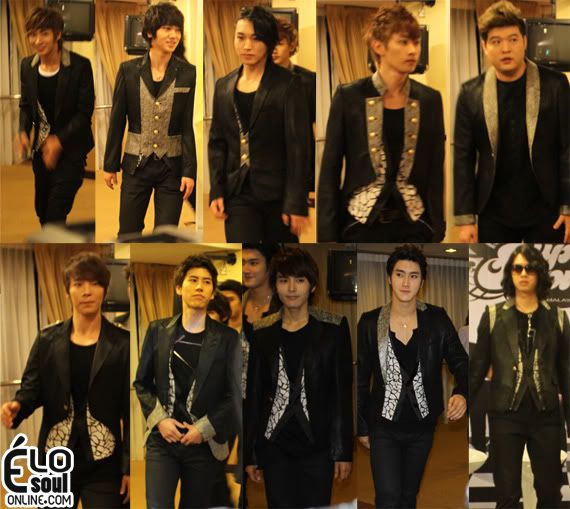 Top L-R: LeeTeuk, Yesung, Sungmin, Eunhyuk, Shindong, Donghae, Kyuhyun, Ryeowook, Shiwon and Heechul.

*This picture was taken when the boys made their way into the press conference room except for Heechul. We couldn't find any pic of him walking into the room, so he's the odd one with a different background*



The conference started off at 4:35pm when members of

Super Junior

greeted the press. Questions were being asked by

emcee Liew Li Li

, 8TV's Mandarin News presenter.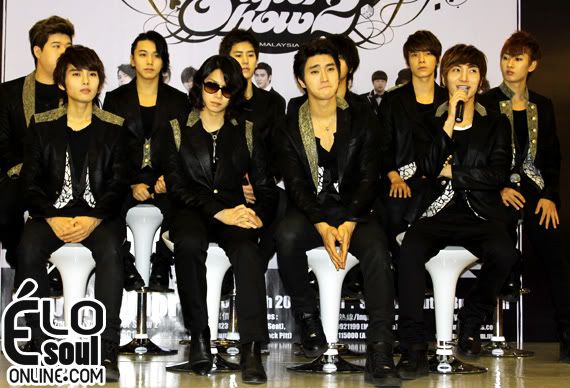 Here's a brief of what was being asked during the interview (via k-popped)



How do you feel about your first concert in Malaysia?



Eeteuk: This is our third visit to Malaysia. Our first visit was when we filmed the Dancing Out music video, we came here for the second time for the MTV Asia Awards (2008) and this is the third time – here for the Super Junior Super Show 2.

This time, we see many more supporters in Malaysia and we are very excited for that. It's just a few hours away before the show. It will be a really fun concert today so everyone should enjoy it.



What can fans expect from the Super Show 2?



Eeteuk: It will feel like a party and Super Junior will even dress up as girls. I highly recommend the show and do enjoy it as it is going to be a lot of fun.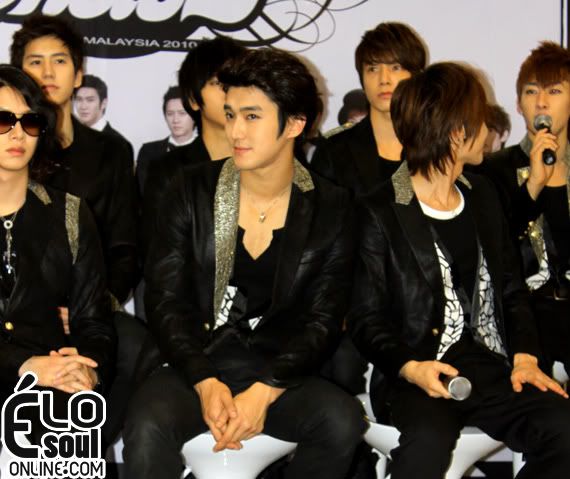 This is not your first time in Malaysia. What impresses you most about our country?


Eunhyuk: We filmed the Dancing Out MV in Malaysia, although it was very hot, the people are very sincere and it is a beautiful country.

Eeteuk: And at the hotel we are staying at the moment (Grand Millennium, Kuala Lumpur), there is a picture of us taken during our first visit to Malaysia. That's awesome. The photograph also shows the majestic Twin Towers of Malaysia. Your country has beautiful palaces too. I really wish I can come back to Malaysia and I am really happy to be here today.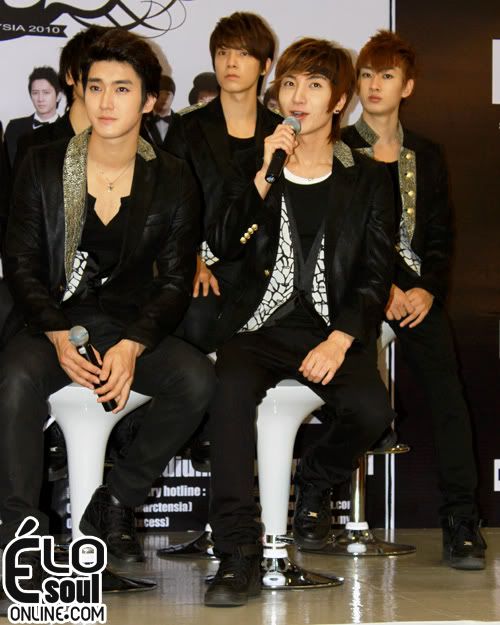 Do you have any message for the fans?



Eeteuk: I heard that for the first time in Malaysia, fans camped overnight at the concert venue. It (the concert) will be great as we can get closer to the fans…sharing the same air and just having a good time together.



And it's really good that the tickets have already sold out. How do you feel about that?



Eeteuk: We are very honoured and we have waited a long time to be here. We now have the opportunity to be close to the fans. This is the first time, of all our visits to Malaysia, where we can really connect with our fans.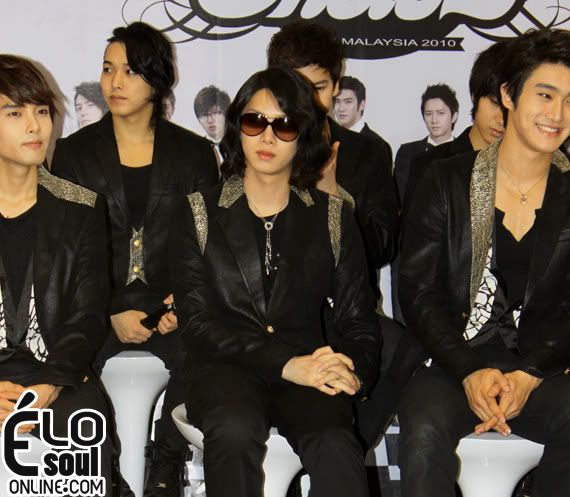 Super Junior not only performs as a group, but you also have solo activities. Would you like to give us an update on your individual projects?



Eeteuk: Our brother Siwon will play the main role in the new Korean drama Oh! My Lady.

Siwon: (in English) Hope you guys will like the drama. Thank you.



What is Super Junior working on right now apart from the Super Show 2?



Eeteuk: We are working on the fourth album now and we hope to give a better performance, and a better Super Junior soon.

At the press conference, when the boys took their sits, they look clueless as all of them didn't know what to do and was waiting for instructions from their manager. As soon as the emcee introduced them to the press, they did their famous signature of course - "Wurinen Super Junior, Oeyeo!". Funny part was, they did it thrice as they had to pose for the camera at three different angles. The boys looked like robots when they did their famous signature especially when they repeated it a few times.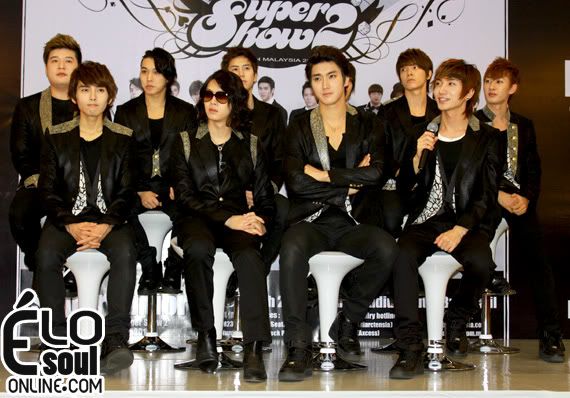 We noticed that

Choi Shi Won

was busy posing for the camera with all kinds of funny expressions while

Leeteuk

was busy answering questions. Check out the pictures to see his expressions. On the other hand, Hee Chul joined in later with his diva poses for the photographers.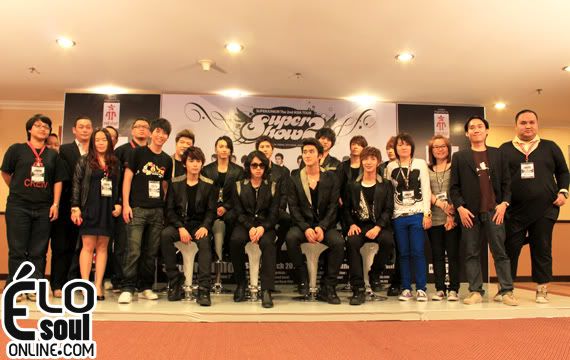 Super Junior

together with the organizers and sponsors;

Redstar Presents, Marctensia, SM Entertainment & Dream Maker, Warner Music Malaysia, Korean Tourism Organization, one FM and Hot FM, YG & Epop, Greenbox & Redbox Ria, Speedy, Daorae Korean BBQ, Freak and Radioactive

.


Overall, the press conference was surprisingly short which lasted about seven minutes. It was also disappointing that there were no open questions given to the media.




Press Conference pictures