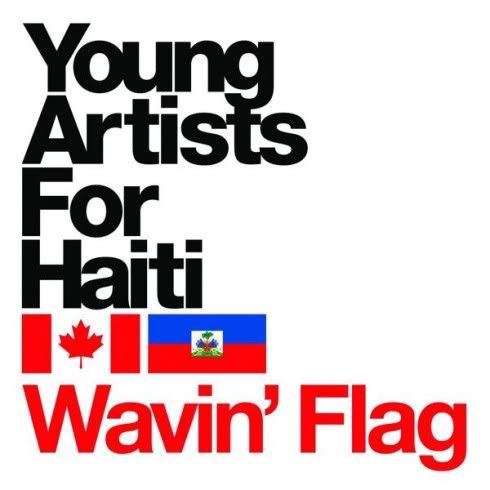 A group of 57 Canadian artists and musicians (including
Nelly Furtado
and
Justin Beiber
) have collaborated together to a reformed version of
Knaan's
Waving Flag
. It is available on iTunes now. When the song is purchased, all proceeds goes to help
Haiti
relief by efforts of
Free The Children, War Child Canada, and World Vision Canada
. Watch the music video in full post!


[Seriously a powerful song.]
Artists (in performing order):
-Knaan
-Nelly Furtado
-Avril Lavigne
-Sam Roberts
-Pierre Bouvier (Simple Plan)
-Tyler Connolly (Theory Of A Deadman)
-Kardinal Offishall
-Jully Black
-Josh Ramsay (Marianas Trench)
-Jay Malinowski (Bedouin Soundclash)
-Chin Injeti
-Jacob Hoggard (Hedley)
-Red 1
-Lights
-Derek Whibley (Sum 41)
-Serena Ryder
-Emily Haines (Metric)
-James Shaw (Metric)
-Hawksley Workman
-Drake
-Ima
-Elisapie
-Pierre Lapointe
-Esthero
-Corb Lund
-Fefe Dobson
-Jim Creegan (Barenaked Ladies)
-Tom Cochrane
-Kevin Parent
-Lamar Ashe
-Colin James
-Nikki Yanofsky
-Suzie McNeil
-Stephan Moccio
-Aoin Clarke
-Kathleen Edwards
-Jim Cuddy
-Shiloh
-Stacey McKitrick
-Jessie Farrell
-Colin MacDonald
-Justin Nozuka
-Hayley Sales
-Matt Mays
-City & Colour
-Arkells
-Pat Kordyback (Stereos)
-Dave Faber
-Brandon Lehti
-The Canadian Tenors
-Justin Bieber
-Torquil Campbell (Stars)
-Broken Social Scene



For more information:

http://www.facebook.com/youngartistsforhaiti



The original Waving Flag by K'naan sounds like this

:

It was one of the Vancouver 2010 Olympic theme song as well as the official 2010 South Africa FIFA World Cup anthem.






Quite catchy, eh?