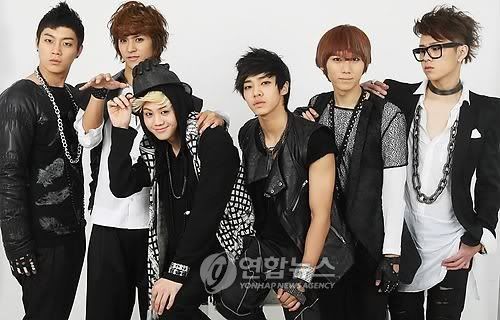 Hey guys as you know that Universal Music Malaysia held a live video conference today in their office with BEAST, so here we have some of the details for you guys.

The video conference was held in UMM's office together with the medias and some lucky fans. Fans was given a chance to ask 4 question to BEAST. As below is some of the question and answer in the live chat conference today.


Q-What they think about the differences between BEAST and other idol group?
A-They say that during the production of the album everyone join in and they provide a lot of ideas.Because they join the production so they think that this is their differences between them and other idol group.


Q-Lee Hyo Ri did mention before that Du Joon is her ideal type of boyfriend, so by anychance will they have a chance to work with Lee Hyo Ri
A-As for now they don't have any plan on working with Lee Hyo Ri yet but she is their idol so they will be very happy if they got the chance to work with her.


Q-Wonder if their company will let them date openly/ publicly
A-They say that their company didn't mention on dating publicly this issue but they say they are an idol group and has a lot of fans so is not necessary for them to date cause with the fans is more than enough.


Q-Before this they have a photoshoot for Marie Claire and they went topless, so beside than that how far can they go?
A-Beast was joking and said that this might be the last time they show their body. Next time they will do more body build up before showing the fans again.


Q-Do they have any plans in shooting dramas?
A-Currently they have no plans in shooting drama, but they say if they have chance all six of them will like to participate in it


Q-For this time the showcase in Malaysia did they prepare any special performance for malaysia fans
A-They practice every night now and they asked the fans to look forward for it


Q-This is the first time they will coming to Malaysia, so what are they looking forward to see in Malaysia?
A-Their manager used to stay in Malaysia so they heard a lot about Malaysia before this and their manager did mention to them before that Elephant riding is quite interesting so they are looking forward for it and they say that they will leave a very good memory to their fans in Malaysia.


Q-When you guys first heard of Malaysia, whats the first thought about it?
A-They say that a lot of koreans come to Malaysia to travel, and they say that they want to go to the twin tower (KLCC).


Q-Is there any fans service this time in Malaysia?
A-They say that they practicing and preparing now for the fan service but they won't tell what it is yet cause they want to give Malaysia fans a surprise


Q-Who is their role model?
A-They say that SHINWA is their role model and they respect

SHINWA

. they also mention that SHINWA has teamwork and also is a very long living boyband.


Q-Will Beast pay attention to the world cup?
A-They will look forward to it.


Q-Who will they support in world cup?
A-They said that they will support the SOuth Korea Team and they will be very happy to watch it


Q-If they have a chance to do a collaboration with other korean girl group who it it be?
A-They said 4Minute but when ask again girl groups from other company, they asked the fans who do the fans think that BEAST should go with for performance and the fans answer 2NE1 and The boys cheer.

Lastly they said that they are very happy and thankful to have the conference today with the fans and they said that they are coming soon to Malaysia so they asked the fans to wait a while and they will show the fans their performance.
P/s: the question and answer is translated by the interpreter. It might not be exactly the same but is more or less the idea of it.



New Update

: BEAST showcase on the 26th June will now held in KL LIVE and

NOT

DRAGONFLY club as announced earlier. According to UMM, from the date of the pre order of BEAST SHOCK THE NEW ERA repackage album launch they already receive 1000 order so now they moved it to a bigger venue. On the 27th JUNE, BEAST will be having a autograph session in

1utama

shopping center outside FCUK. Good news is this time fans are allowed to get all 6 members signature and they will sign as much album as possible.