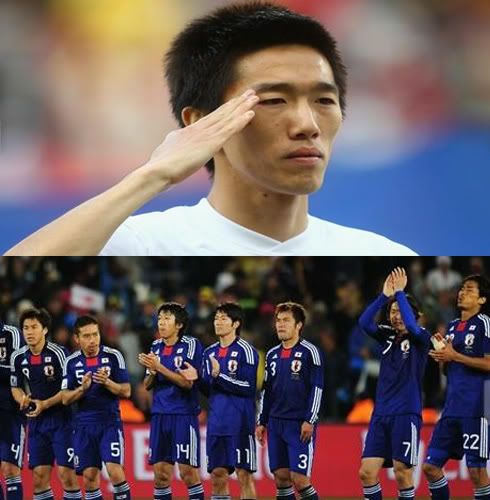 It is sad to witness two of Asia's represents having to leave the World Cup 2010 in South Africa after being beaten by two of South America's giants. However, both the Taegguk Warriors and the Blue Samurai bows out with their head held high. They left the recent World Cup with a lot for other nations to reflect on. Their football quality have made a mark to the world and have been acknowledged by many of football giants. Asia's football future looks brighter and Asian fans are more than happy to welcome their heroes home.
It was big match on Saturday as Korea faces two times World Cup champions, Uruguay. Despite such an intimidation on papers, Korea controlled the game from the start creating a lot of good chances. Uruguay went ahead after a clumsy defending from Korea but Lee Chung Young leveled the Warriors with a simple header from Park Chu Young's free kick cross.
Korea were then beaten through the heavy rain and wind by a beautiful curling shot from Luis Suarez which earned him the Man of the Match title. It was a tough match and Uruguay's players acknowledged Korea's strength throughout the game as they did not gave up once and fought till the final whistle blew.
It was a much nervous game between Japan and Paraguay as either side that wins will make it into the history as both nations have never surpassed into the quarter finals round. Japan looked strong and steady and took Paraguay all the way into the penalty shootout. A slight miss from Yuichi Komano costs Japan their trip to quarter finals but their football action throughout the entire game including the extra time, saw a team that was hardworking and were together from the very beginning. Japan's talisman Keisuke Honda were crowned the Man of the Match. Nevertheless, it was a match that saw a different side of Japan who started as one of the lowest ranked in FIFA when the World Cup 2010 kicks off.
It was a delight to watch both nations played in the 2ND Round of the 2010 World Cup as they performed better than many expected. Both Korea and Japan have never made into the 2ND Stage of any World Cup on foreign soil. Their first would be during the 2002 Korea/Japan World Cup. Their loss meant nothing else but sheer admiration from their country folks as well as the entire Asia continent. Korea and Japan maybe bowing out of the 2010 World Cup but in many hearts of their Asian fans, they are bowing out while holding their heads up with utmost pride.
Picture credits to FIFA.com Getty Images