From left to right : Alexander, Kevin, Eli, DongHo, KiSeop, SooHyun & KiBum
The time has come for our full coverage of U-KISS' official Press Conference in Malaysia that took place at The Mandarin Oriental Hotel, Kuala Lumpur last Saturday, 19th June 2010. It was a rather an unusual feeling to lay eyes on 7 very handsome faces; KiBum, SooHyun, KiSeop, DongHo, Eli, Kevin and Alexander. One of them, personally, looked like the hero from a comic book. More photos from the Press Conference will be uploaded so stay tuned to ELOSOUL in the meantime, click more to check out photos and full event coverage!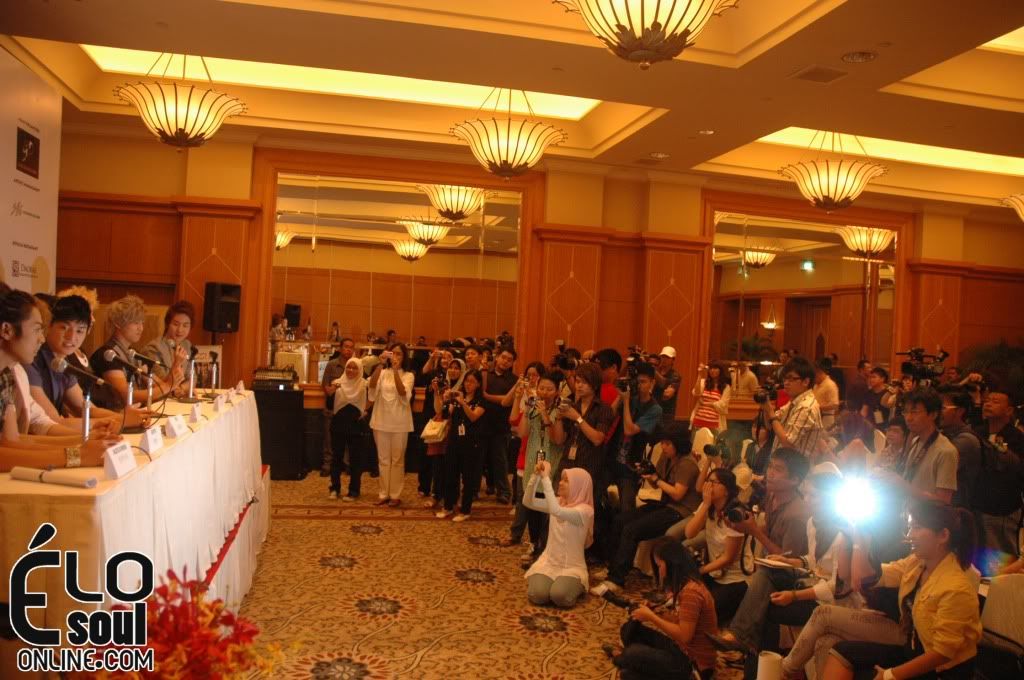 The hall was filled with the familiar noises of the cameras flashing and clicking non-stop as the boys stepped into the hall to take their places on the stage. Adorably, the boys looked a little nervous but never fail to greet us with their signature greeting and the usual bow, "Annyeonghaseyo, U-KISS-ibnida!". After the introduction, the conference kicks off.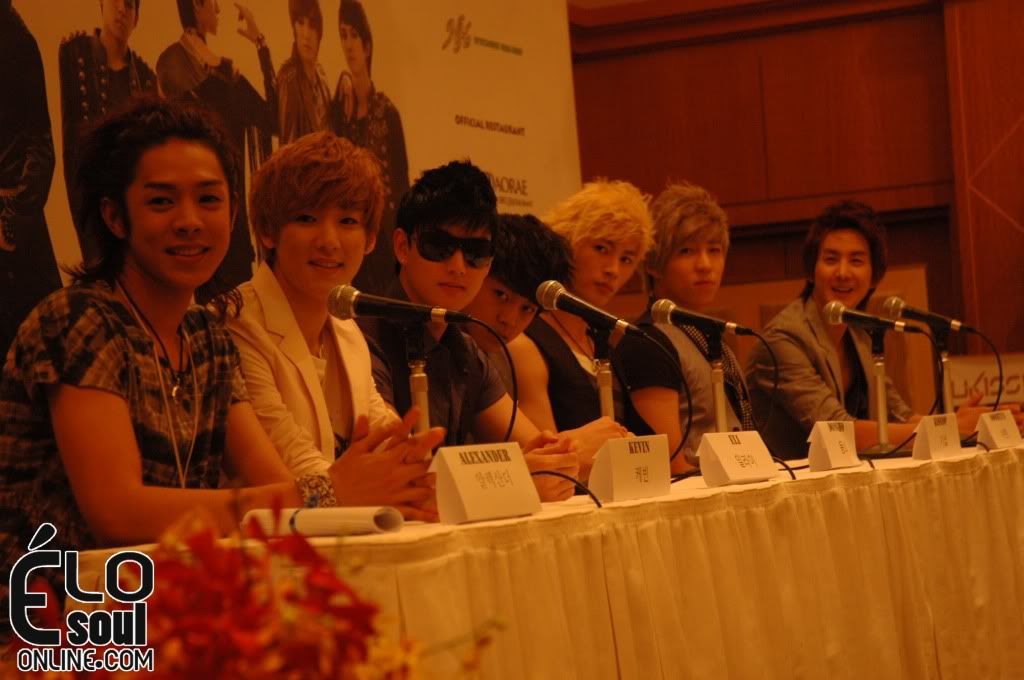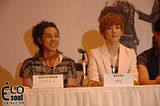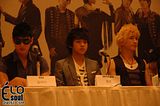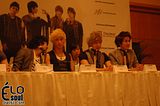 One by one, the members were asked expressed their feelings of their arrival and of their stay in Malaysia. They did not even miss the chance to speak some Malay sentences they've practiced either like 'Terima kasih' (Thank you) and 'Saya cinta kamu' (I love you). The boys have nothing but good gracious comments about the country. Then comes the Q&A session which was rather reserved in the beginning.
Without wasting anymore chances, ELOSOUL grabbed the opportunity to ask the first question. I was mildly flustered when I noticed all seven eyes were locked on me, anticipating my question which was the first thing the boys experienced when they first set foot in Malaysia. Mind you, getting even one good looking guy to look at me was not an everyday activity for me so to have seven pairs of eyes at once, it was rather overwhelming. However, Alexander noted that the first thing the boys did was enjoying the variety of delicacies of the country and indicated he had tried 'Nasi Lemak' which he ultimately enjoyed the most. Kevin added that they had some fun with the fans the day before as well.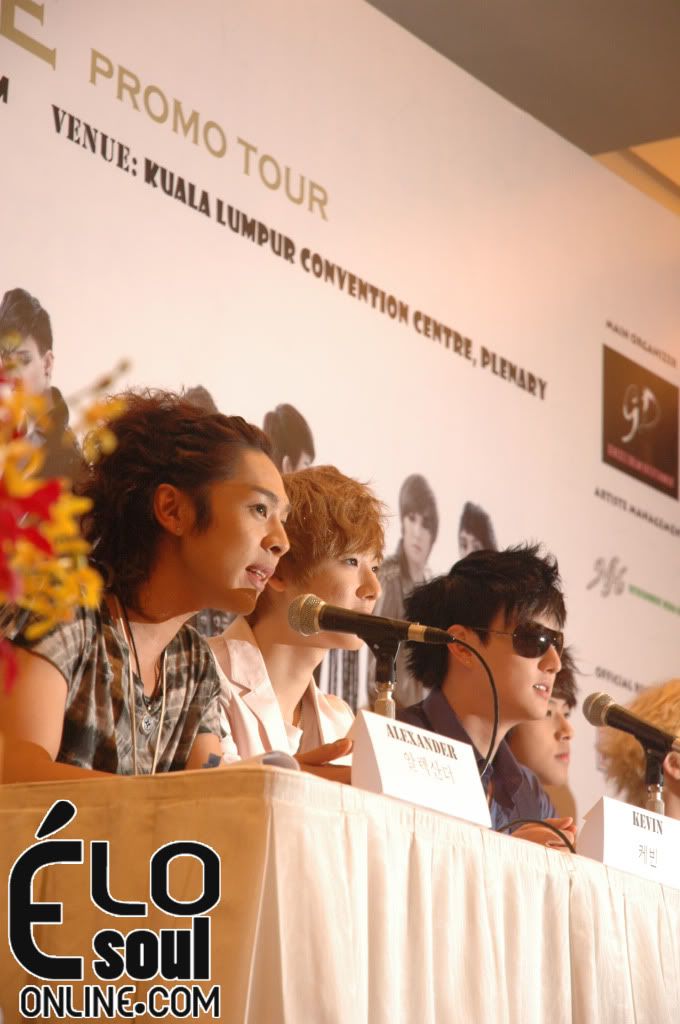 Alexander favorite Malaysian delicacy is 'Nasi Lemak'
Slowly the questions kept pouring out and the boys calmly answered them, smiling as they do. One asked if there is a possibility of a U-KISS Concert in Malaysia which the boys did not hesitate to answer that they wish to have one soon. U-KISS were also asked of the difference that separates the boys from other idol groups in the industry in which Kevin pointed out that the one thing that sets them apart in the fact that they can speak many languages. Alexander in particular, can converse in 7 languages; English, Chinese (Mandarin & Cantonese), Korean, Portugese, Spanish and Japanese. The boys, mainly Alexander, Eli and DongHo, answered some of the questions in Chinese as well which ultimately showcased how well conversed these boys are.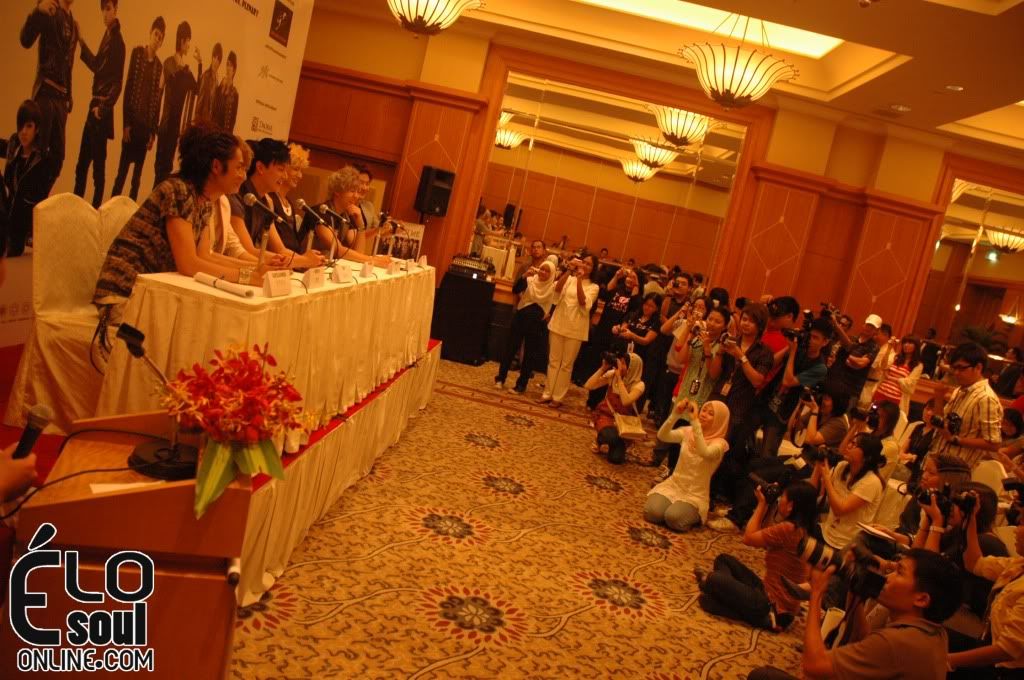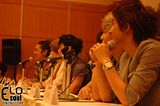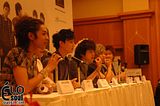 Many other questions were presented to the boys including some from our side. ELOSOUL asked which of the girl groups that they would like to collaborate with and cheekily the boys answered, any girl groups will do. It was probably the first time all seven of them broke into the brightest smile since the conference began. Alexander even added that he wished to collaborate with any girl group that is not afraid of a scandal which gave us an immediate reaction to ask what was the worst rumors that they have heard about themselves since their debut. Eli retold of a heartbreaking rumor during their pre-debut days when someone indicated the boys are not going to debut. He continued saying such stories became the boys incentive to work harder and debut as a group that was to be reckon with. Alexander also added that he had heard of a rumor of their Malaysia Fan-meeting was cancelled. That rumor is definitely untrue.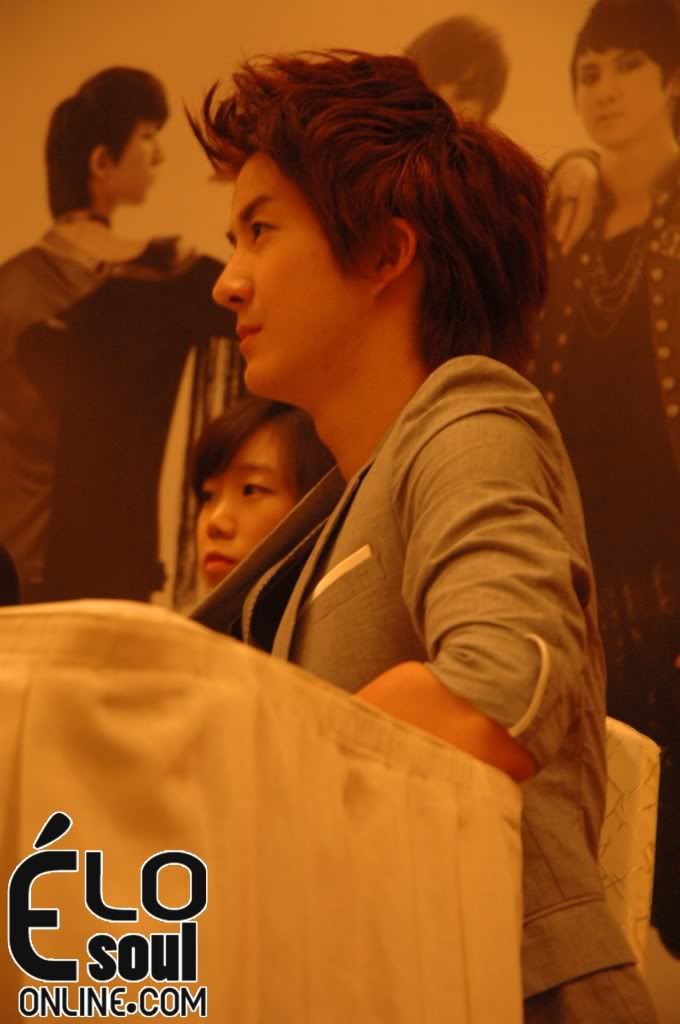 KiBum proud to be compared with his older brother, ss501's Kim Hyung Joon
There was a question mainly directed to KiBum about the comparison between him and his older brother, SS501 Kim Hyung Joon. KiBum stated that in the beginning it was quite burdensome for him as his brother's status is highly recognized but with constant advices and support from Hyung Joon, KiBum now feels honored to be compared to his brother. He also stated recently many don't look at him as Kim KiBum, Kim Hyung Joon dongsaeng (little brother) but KiBum of U-Kiss in which he is very proud of. Another asked of their affection for their sunbae (seniors) Super Junior and the boys replied that SuJu helped them a lot and are constantly giving them advices and showing them their support for U-Kiss to mature constantly in the music industry. They also noted that SuJu are their good friends and the people they would hangout with when they have some free time.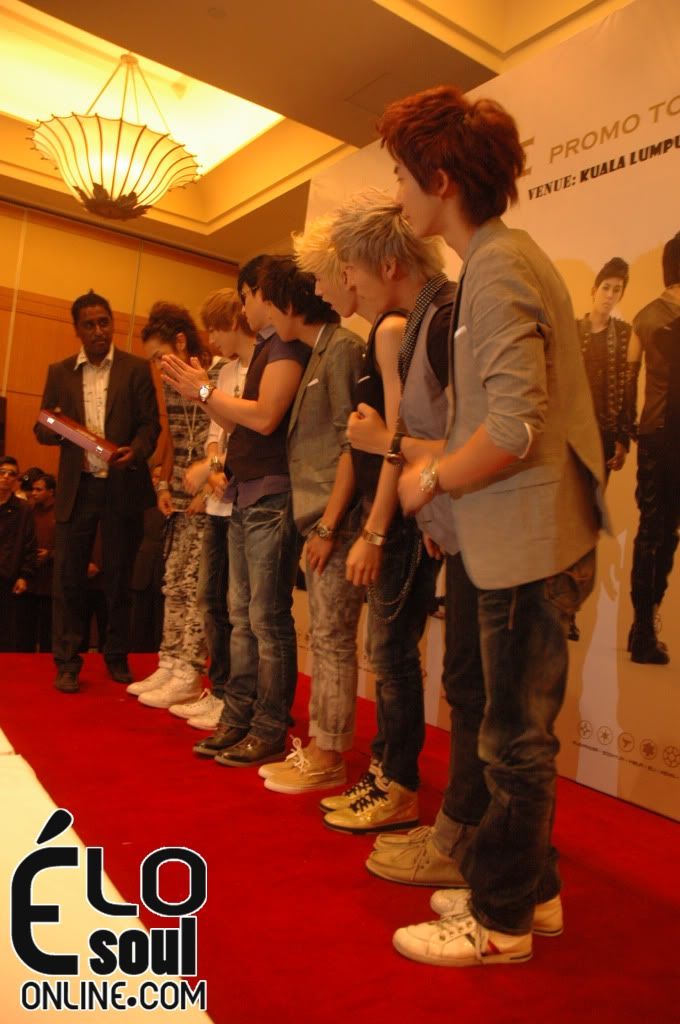 U-KISS in awe after receiving the traditional 'Keris' as souvenir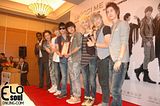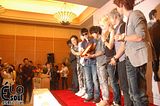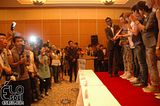 With that, the Q&A session wraps up and the press are given time to snap as many photos of the boys as they pose officially for the camera. U-Kiss were also given a souvenir which was a 'Keris' (Malay traditional sword) to remember their stay in Malaysia. After more shots with the respective sponsoring bodies, it was time for the boys to leave the hall. Fans were eagerly waiting for the boys outside of the hall and the boys sweetly acknowledged the affection they received from the fans.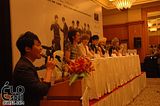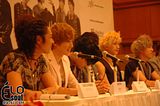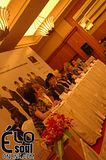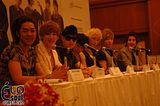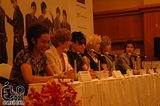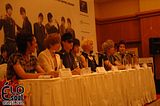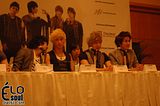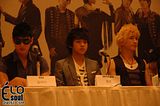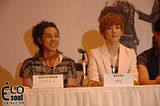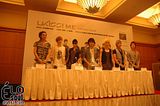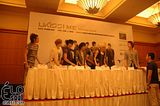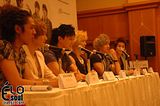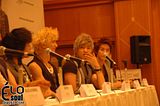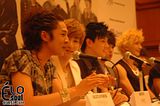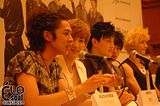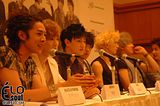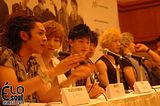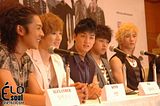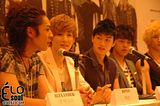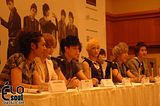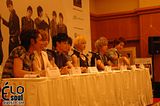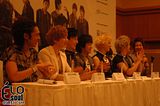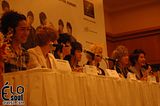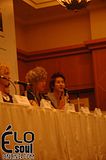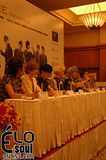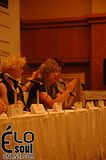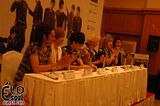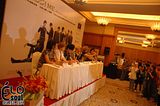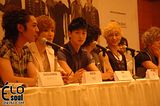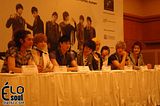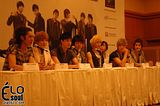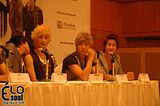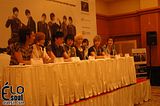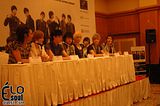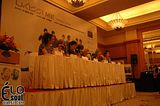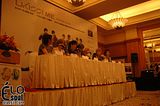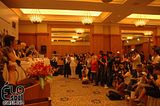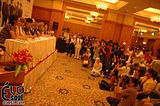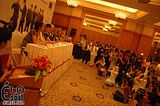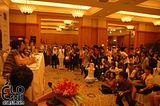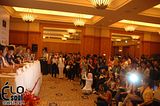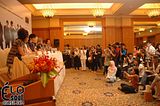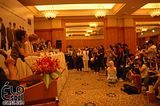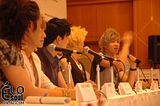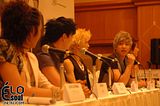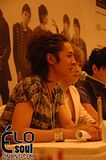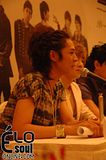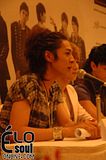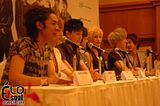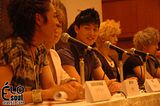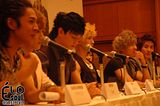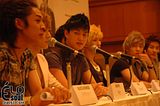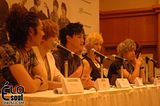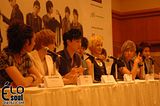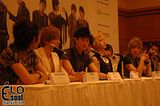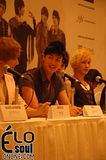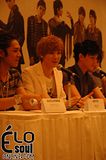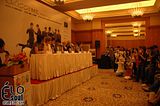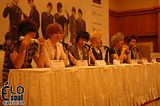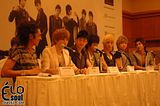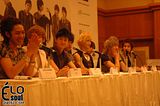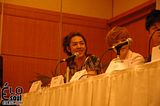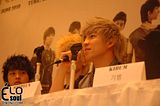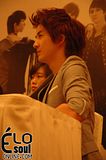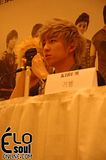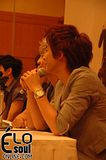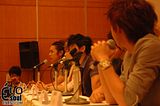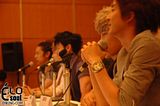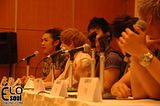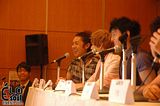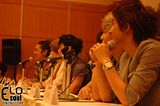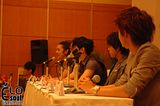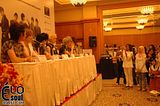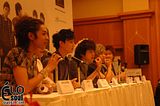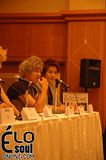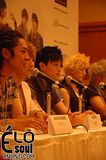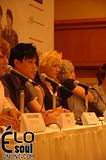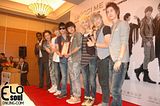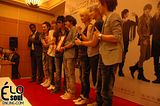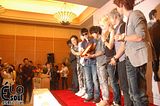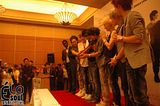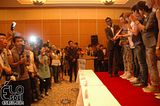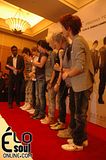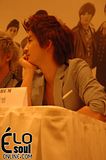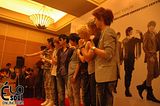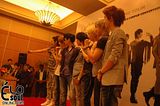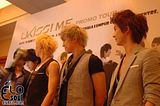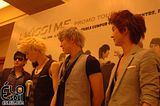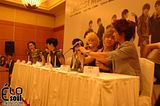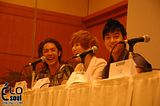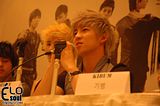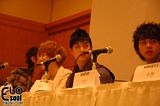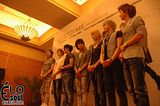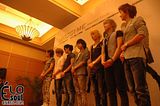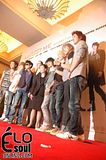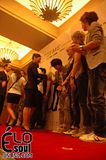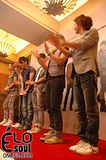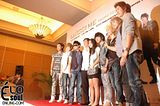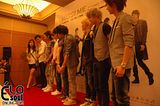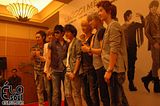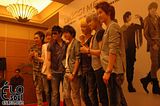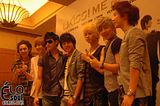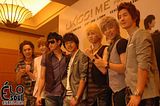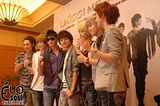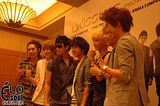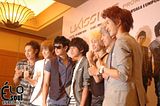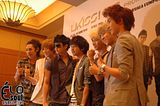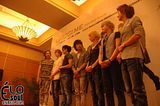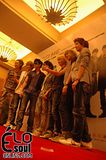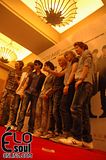 Photographer : Qairul Faiz