Brian Joo
,a former member of popular R&B duo ,Fly To The Sky was in town last week for a fan meeting here in Malaysia.Organized by
Rhythm Land
and
On Point Entertainment
, the showcase was a success which attracted not only local fans but also international fans which took place at
The Opera
, Sunway Pyramid on July 10th. Earlier in the afternoon, a press conference took place right before the mini showcase.
Last May, Brian announced that he will be having a fan meeting here in Malaysia on his
twitter
. Without further ado, check out our full coverage on the event in full post!
Brian started off the showcase with 'In My Head'(Korean Version) along with 6 other songs off his first album titled "The Brian" and the second "Manifold".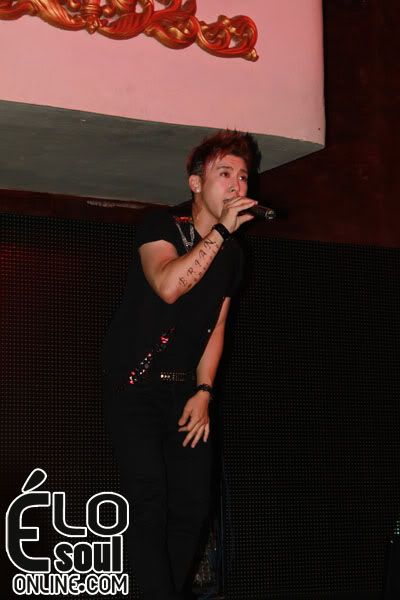 Song List
1-In My Head (Korean Version)
2-Don't Go (Kajima)
3-Even Though My Heart Breaks
4-Manifold Medley
5-Tears Run Dry
6-My Girl+new remix
7-In My Head (Jason Derulo version)



Brian apologized to the fans for singing the wrong lyrics for the korean version of 'In My Head'. It was said that he has been practicing the English version recently and got mixed- up with the korean version.The fans were supportive of him and told him that " It's Okay". Besides having great vocals, he also showed off his awesome dancing skills which caused the crowd to go "gaga" throughout the showcase. A lucky draw was held during the interval between the showcase. Four lucky winners were draw out from the lucky draw box by Brian on stage.





First winner got to see "Brian performs a sexy dance".

Second winner got a back hug from Brian.





The final winner gets Brian to act cute towards her.





The show continued as Brian performed hit single "In My Head"originally by Jason Derulo and got the crowd to dance along with him.

After the showcase ended, fans who purchased the VVIP ticket proceeded to the first floor for a celebration party with Brian while those who were at the VIP seats were allowed to have a photo-taking session with Brian.



A girl on a wheelchair also came to support Brian too.



After the group picture, fans who attended the celebration party gets a chance to take a group photo with Brian.Our very own local group "V" and 8 TV Nite Live Hosts, Jules and Mike did not miss their chance to take a photo with Brian.





Many overseas fans came to Malaysia just to see Brian up-close.We also managed to interview a few of the international fans who were present at the event.One of the fans told us that they don't mind spending their money just to come to Malaysia to see him. Another fan from Singapore said that she hope that Brian will visit Singapore in near future. Some fans came as far from Japan, Thailand, Indonesia, Philippines, China and even South Korea just to catch a glimpse of their favourite star.


Picture by Crystal-Keiz
Written by Crystal-Keiz