Another year has passed and that time of year has come again to Singapore. Elosoul was lucky again because we were invited once more to cover the
Sundown Festival 2010
Press Conference held at
Vanda Room 5, Marina Mandarin Hotel Singapore
on 30th July 2010 at 11am. Read on to find out more.
The Sundown Festival 2010 that was being held at

New York, Universal Studio, Resort World Sentosa

Singapore on 31st July 2010 was attended by the best artistes from 2 neighbouring countries, Japan and South Korea. The 2 Korean artistes were

F.Cuz

and

After School

and the 2 Japanese artistes were

SuG

and

LM.C.

On 30th July 2010, Elosoul was given a chance once again to attend the press conference for this annual event and I am glad to be able to cover this event successfully despite the bad weather outside the venue that day.

In the rather small and crowded room filled with media personnel from Singapore and also from overseas, the press conference began with an interview with the first group of artiste which is SuG.




SuG

[pronounced as 'Sagu' サグ in Japanese] is a J-rock band formed in 2006 and part of the visual kei movement of Japan. The group is made up of 5 members namely Takeru [vocalist], Masato [guitarist], Yuji [guitarist], Chiyu [bassist] and Shinpei [drummer]. As funky as their name, this band is also very colourful in terms of their fashion too as they came wearing bright colour clothes namely pink, yellow, light blue and green leather jackets with sequins and pin up badges.



Entering the room first was bassist; Chiyu followed by Shinpei, Takeru, Masato and lastly, Yuji. The interview with them started with the question asked by the emcee about how they feel being in Singapore for the first time. Shinpei answered that Singapore is a beautiful country and Masato added that they felt disappointed that there isn't anything coming out from the Merlion when they visited it the day before, leaving the room laughing. After which, the emcee asked them about their music style and Takeru answered that their music is similar to the clothing that they are wearing which is colourful. When they were asked about attracting female fans, Takeru said it make his heart goes "doki – doki" [beat faster].

The next question asked is whether they have always wanted to be a performer. All the members answered confidently that they have always wanted to be performers since they were young and Takeru even tried saying it English. Next question was given by the media which is about the benefits they received after signing on to Pony Canyon [one of the largest based entertainment company in Japan]. Takeru answered, like their previous management, PS Company, the benefits are the same and they just wanted to share their music to a larger audience. The media asked whether they put on make-up when they go out privately, and Takeru answered 'Always no makeup' sending the room laughing with to his "broken English" and when asked further if they are easily recognized without make-up, Takeru answered, maybe a little. The interview ended with the media taking pictures of them as a group.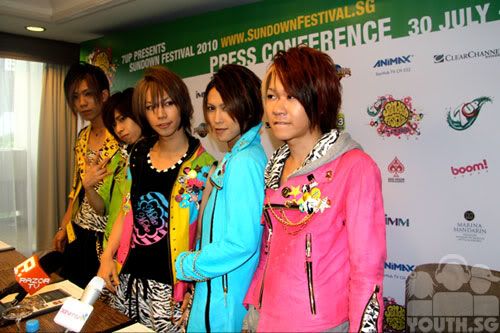 Next up for interview was K-pop boy group,

F.Cuz.

This 4-member boy group which is pronounce as 'Focus' debuted this year in early January. The members that made up this group are Jinon [leader], Lee U, Kan and Ye Jun. As the boys entered, the room is filled with lots of clapping from the attendees. Ye Jun entered the room; followed by Kan, Lee U and lastly, Jinon. The boys wore a simple black suit for this press conference.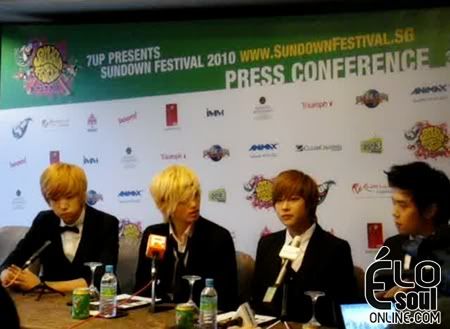 The first question posted to them by the emcee was about their most memorable experience as a rookie band. Jinon answered that they felt really happy when they see a lot of fans welcoming and cheering them at the airport and during their performance overseas. Next, they were asked about if they weren't in a band, what they want to do. For Jinon and Kan, both of them want to be actors for dramas and movies, Lee U wants to be a ballad singer and Ye Jun will still continue practicing to be a singer. Next, they were asked if they were to do collaboration, with whom they want to do it with. Jinon answered that they want to do it with Jay Chou [one of Taiwan's popular singer] because all of them admire him and they would love to do an album collaboration and even star in movies with him.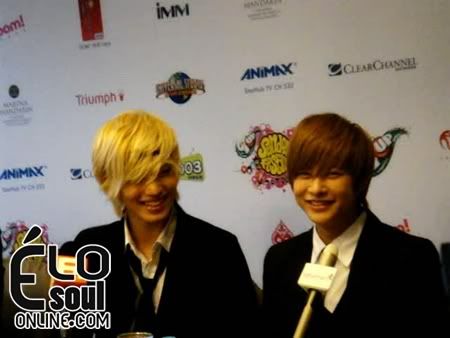 The next question were given by the media was what is the craziest thing a fan ever did to them. Jinon answered that they were felt loved and surprised that fans even followed behind their coach by van or cars upon their arrival at Singapore Changi International Airport or anywhere overseas. The last question posted to them was about what they think about Yao Yao [a Taiwanese singer] after working with her for their 'Jiggy' MV and if they feel attracted to her. This has sent the room laughing. Lee U answered in his 'broken English' that she is really cute but as an idol group...'We don't love'. He even added that she is perfect for us which sent the room thinking. You can view snippets of the interview below.




The next artistes were another J-rock visual kei group,

LM.C

. This duo group made up of Maya [Vocalist] and Aiji [Guitarist] was formed in October 2006. These two guys have recently toured Europe, South America and Asia for their LM.C Tour 08 -09 and recently performed at FanimeCon [an annual Anime convention] 2010 in San Jose, California on 30th May 2010. Entering the room in their rather unique and elaborate attire; both wearing the same black shirt with huge printed words in white at the front and a spike collar; with Maya wearing a black hoodie under the shirt and a cap and Aiji wearing a black jumper, there was another guy in a silver skull, punk-headed mask followed behind both of them.




The first question asked to them is the difference between performing live in Japan and overseas. Maya answered that despite being different in culture, the listeners are the same be it performing live in Japan or overseas. The nest question asked by the emcee was the strangest gift they ever received from a fan. Again, Maya answered that there is not much different between the gifts given to them by fans in Japan or overseas. The only difference is that overseas fans tend to decorate their present more and most of it is handmade. The last question by the emcee is about their attire on stage, which is what kind of attire they would not wear on stage. Aiji answered that they won't wear things that won't look good on them.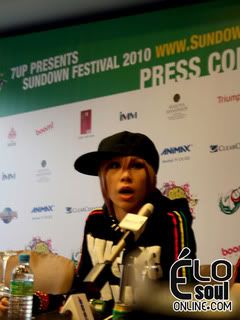 The next question asked by the media was about how they look in their private life. Maya answered that they are pretty boring outside. The next question asked was how they maintain their image on stage during hot summer. Again Maya answered that they have no problem but the makeup artist will have a hard time touching them up every time. The next question is about how much their music style and the way they perform have change since their tour around Europe and other countries. Maya answered that they only have gained more power and love from fans overseas because their overseas fans are more excited to see them. The last question posted to them is about the mysterious guy following behind them. Maya joked by asking us whether we all can see him, the Death God and that whoever see him, death is approaching. It sends the whole room "scared". You can check out snippets from their interview below.





The last artiste to be interviewed is K-pop girl group,

After School

. This girl group which started as a 5-member group in early 2009; namely Kahi, Jung-ah, Bekah, Jooyeon and Soyoung, now have 8 members with UEE entering the band during their 2nd single and Soyoung who left the band in Fall 2009 and 2 additional members; Nana and Raina who joined afterwards and Lizzy as their final member. The girls were dressed in formal black and white ladies attire and all of them look awesomely gorgeous. Entering the room first was UEE; followed by Jooyeon, Jung-ah, Kahi, Bekah, Raina, Nana and lastly, Lizzy. They started off by introducing themselves and Bekah even thanked the media for coming there despite it was raining outside.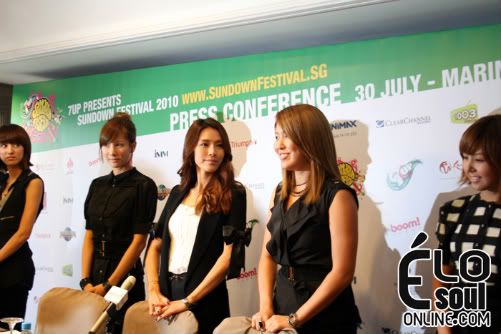 The first question posted to them by the emcee is about their popularity between their female and male fans. Kahi started by saying how thankful they were to their fans and that at the beginning, during their debut, they only had female fans. But as the group grows and new members joined, their image changed and the number of male fans also started to increase. The next question posted to them is what the fans can expect from them for the concert on the 31st July. Bekah who answered in English said that the fans can expect a powerful performance from them and also ask the fans to join them by dancing along to their songs and have a good time. The next question is about how the girls keep themselves fit despite their busy schedule. Jung-ah answered that their practices have allowed them to keep themselves fit and Kahi added by asking everyone to join in their dance at tomorrow's concert. Bekah also added by saying that they do workout also and try to keep them self busy.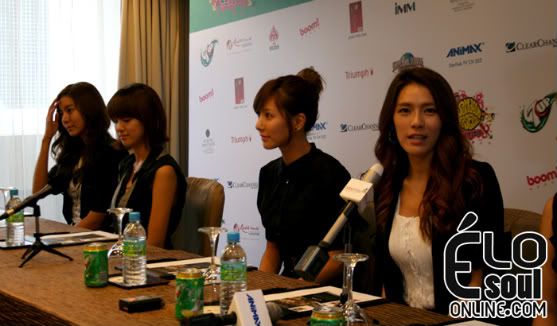 The next question by the media was about how they all met each other. Bekah answered that the band started off with Kahi first and then they debuted as a five member and after rounds of auditions, the other members slowly joined in. Kahi even added that they still doing auditions to add new members to the current After School. The next question was posted to Jooyeon. She was asked about how she felt when MBLAQ G.O., who picks Jooyeon as his ideal partner to appear on the reality TV show, We Got Married. Jooyeon was surprised but answered that she would enjoy and have fun since she knew G.O. since her trainee days as both of them attended the same school and both of them are such good friends. The next question posted to them is about After School future plans since they have already debut a sub-group called Orange Caramel which consists of members Raina, Nana and Lizzy. Bekah answered that Kahi would be debuting as a solo artiste soon and they are excited to see the outcome. The last question posted was if they think Girls Generation [SNSD] is their biggest rival. Bekah answered that they don't see those girls as their rival and that SNSD are wonderful and great performers. She also added that the girls are lovely. You can view snippets from the interview below.





The Press Conference ended after the girls left. In total, the event lasted for 1 hour. This experience has been worthwhile and I am glad to be covering this event for all of you. Hope you all will check out the Sundown Festival Concert report too. Plus, do enjoy the rest of the pictures.

Sorry if I never provide much visual for SuG as my camera died during their interview and the other pics for not being that clear.



F.Cuz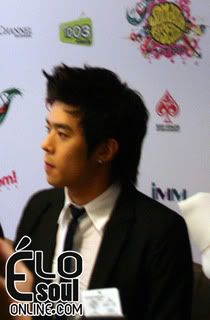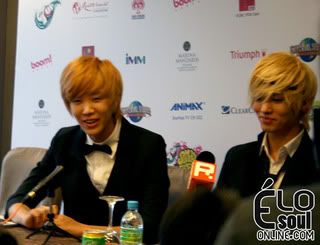 LM.C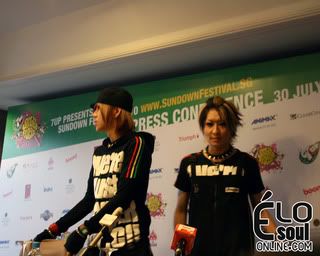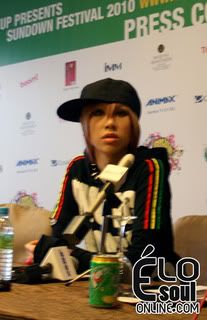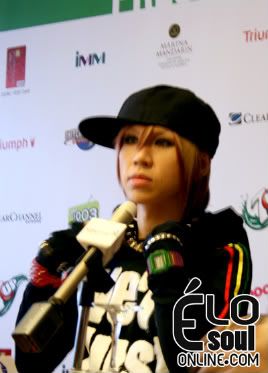 After School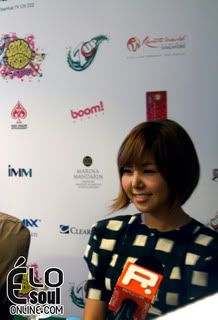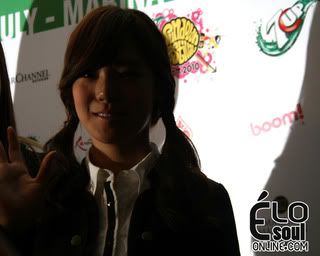 SuG pictures credits to Youth.SG.
Thanks to Xing for editing the pictures.