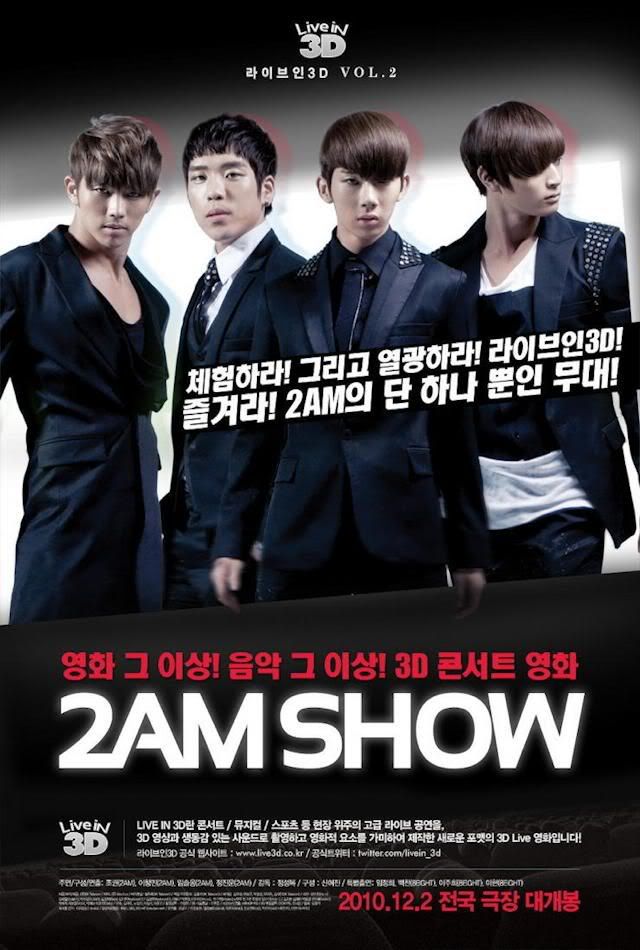 On the 27th of October 2010,
2AM
held a special showcase prior to the release of their first full length album - '
Saint O'Clock'
. The showcase was recorded in 3D and will be released on
December 2th, 2010
in a total of 12 theaters all over South Korea. As for now, the official poster and teaser video for 2AM Show Live in 3D Documentary is out!

SYNOPSIS

Are you ready to enjoy?

Everything about 2AM, and their very special stage, is "2AM SHOW"!4 different boys, who lived in different places, had same dream in common, 'MUSIC'.They met each other in JYP by destiny and started their career under a group named '2AM'.From boy band, they turned into sensitive idols. Through concert news and never seen variety special features and talks, they present ir most passionate concert.The story of "2AM SHOW", which contains their past, present, and future, is now here.


Via Hancinema




Meanwhile, the group will hold their first solo concert this Christmas at Korea University's Hwaseong Tiger Dome from December 24 to 26.

Don't forget to support them by purchasing a copy of 'Saint O'Clock' album which costs only RM 39.90 at Speedy outlets storewide.

2AM Show: Live in 3D Teaser