AOA's leader, Ji Min speaking at the 2013 Asia Super Showcase Press Conference
KPOP girl-band,
AOA
aka
Ace of Angles
attended the
2013 Asia Super Showcase
Press Conference which took place on April 16th at Renoma Cafe Gallery in Kuala Lumpur. Due to schedule conflict, members Yu Na and Yoo Kyung of AOA were not present at the event.
At the press conference, AOA said that they are very excited and nervous at the same time to perform here in Malaysia as this is their first overseas concert. This also marked the girls first time in Malaysia. One of the members, Cho A revealed that even before her debut she had heard good things about Malaysia and how beautiful the country is through her friend who visited here for a holiday.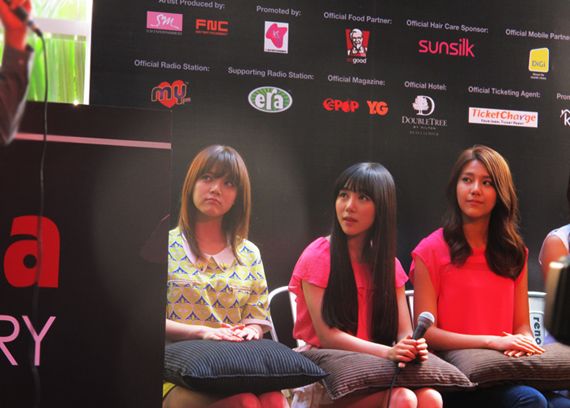 When asked about which artist that they wanna collaborate with if they have the chance, the girls answered as below;

Ji Min - Lee Hyo Ri if got the opportunity
Mi Nah - Uhm Jeong Hwa
Hye Jung - FNC labelmates, record a Christmas album.
Seol Hyun - Collaboration with PSY
Chan Mi - FNC labelmates, CNBLUE & FTISLAND
Cho A - Major Kpop singers in the industry; Malaysian artiste if possible.

After the press conference ended, the girls had a mini fanmeeting with the Malaysian fans.

Jointly organized by Marctensia Concerts and Universal Music Malaysia, and supported by Ministry of Tourism Malaysia and Malaysia Convention & Exhibition Bureau (MyCEB), The "2013 Asia Super Showcase in Malaysia" will be happening on May 12, 2013 at the Stadium Merdeka, KL at 8pm. Don't miss it!